One-year-old girl marries own father days before passing away

– A loving father arranged a 'wedding ceremony' for his one-year-old dughter
– The girl had a brain tumour and was given just two days to live
– The toddler died at home two months after the ceremony
Poppy-Mai Barnard was born with a very rare and fast growing type of cancer in Thetford, Norfolk, England.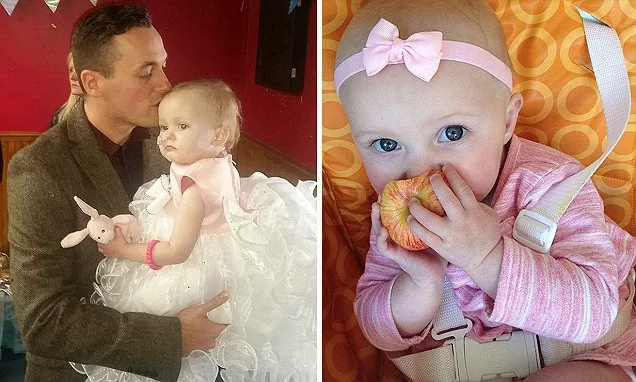 Shortly after birth the baby refused to eat food and experienced constipation — doctors attributed it to teething.
With time her codition deteriorated she started vomiting and was off balance that's why it was decided to put her in hospital.
There, medics dicovered a cancerous mass in her stomach, kindey and speckles were detected in her lungs.
Despite a distressing diagnosis Poppy's parents didn't lose hope and started chemotherapy but after scans revealed one more inoperable tumour in her brain it became clear — the girl wouldn't survive.
Heartbroken parents, mother Sammi Barnard and father Andy Barnard, decided to stop the treatment and turn the last days of their daughter into a fairytale.
They took her home to her brothers and arranged a "wedding ceremony" as her dad had promised her a big wedding when she grew older.
Days on they were delighted when her condition improved, allowing them to create more precious memories together.
The one-year-old was well enough to go for walks, visit family and friends. But their happiness didn't last long, today, on May 4. little Poppy passed away in her father's arms.
Poppy's mom Sammi wrote on her Facebook page: "Today I watched our beautiful baby grow her angel wings, as much as it hurt me to know I will never watch my baby grow, laugh, smile again, she is at peace now, no more pain and suffering. She fought the biggest battle and gave us a lifetime of happy memories in her short life which will stay with me for forever."
Sami and Andy shared their daughter's story on social media to raise awareness and save other lives and more than 30,000 people responded.
Now, they are determined to raise enough money to build a retreat in Poppy-Mai's memory to help other families with sick children.