Luxury cars being dumped in a car park in China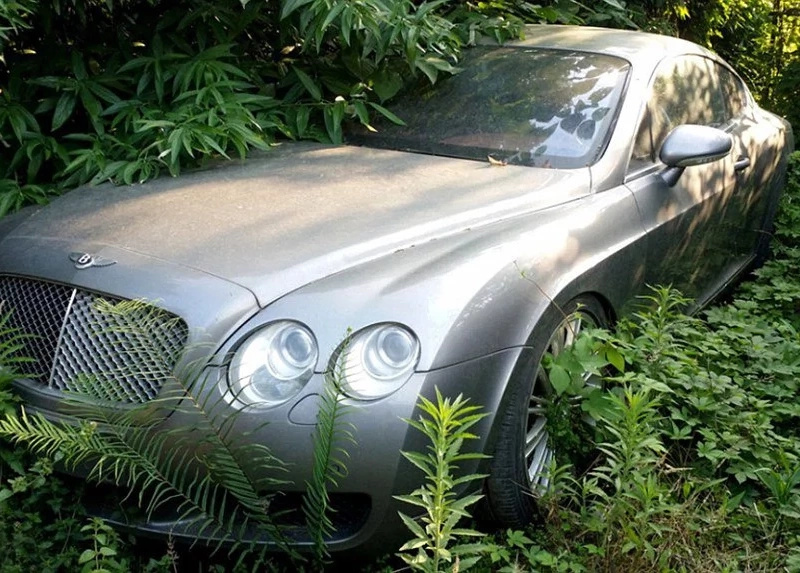 – Luxury cars have been abandoned at car park in Chengdu, China
– Some of the posh cars abandoned are Bentleys, two Land Rovers and three Mercedes Benz
– Many vehicles deserted by their owners for different reasons
– Officials are yet to decide what to do with the vehicles as weeds and bushes continue to cover the cars
At car park in Chengdu, China, you can be tempted to think that it is a car show venue.
The overgrown car park is marred by cars totalling millions that have been forsaken and taken over by weeds and have been abandoned by their owners.
Notably, there are at least two Bentleys, two Land Rovers, three Mercedes Benz and even the odd motorbike according to Daily Mail.
Over 200 cars have been dubbed 'zombie cars', in the car park.
They're are stored in a 'tyrant's car park' because of the value contained in the storage space.
Interestingly, some cars have been in the park for more than two years as bushes and trees grow up around them, thus enveloping them from the outside world.
The two Bentleys, one a Bentley Continental GT and another Bentley Flying Spur, go for least KSh 4.6 million each in Kenya.
Other model are Audi, Land Rover and Mercedes Benz.
Majority of the vehicles are involved in ongoing criminal case either directly or indirectly while others have been abandoned because they were ready to be scrapped or their owners lacked the correct paperwork.
The cars have become a headache for the local authorities, and they dont know what to do with them.
While some have been cleared for auctions, others continue to arrive and be stacked up in the graveyard of cars.
Volkswagen (including FAW Volkswagen and Shanghai Volkswagen), Shanghai Wuling, Beijing Hyundai, Changan, Toyota (FAW Toyota and GAC Toyota), Shanghai Buick, Nissan (Dongfeng Nissan and Zhengzhou Nissan, Changan Ford are famous car brands in China.