For many families in America, Christmas is the time to send out cards with families dressed in matching jumpers or festive novelty outfits.
However, some stand out from the crowd and thanks to social media, these cards are seen by many more people than just those on the original mailing list.
BBC Trending looks at some of the season's most-talked about images.
---
'Peace on Earth'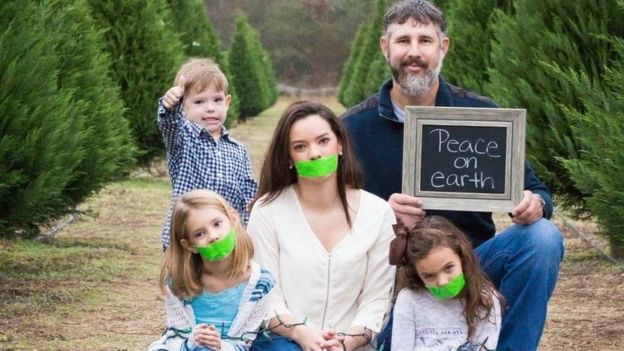 Meet the Johnson family from Louisiana. What began as an attempt at a
humorous card
soon spiralled into an online debate. Some defended the family's right to portray themselves in whatever way they choose. Others argued it was sexist, with one user writing: "Nothing funny about teaching your daughters they have less value than their brother. This is terrible."
The photo was shared nearly 45,500 times on Imgur, prompting photographer Hannah Hawkes to respond to the number of comments she was receiving.
"After being silent, now isn't that ironic, I would like to speak," Hawkes
wrote
on her Facebook page. "I do not support abuse, or the degradation of women. My controversial photo was taken by request by the family, and was in no way meant to promote abuse. This photo was taken with humour in mind."
Continue