Drought crisis leaves struggling Somalia on the brink


Somalia's worst dry spell for 36 years has caused malnutrition and price rises in a country already debilitated by adversity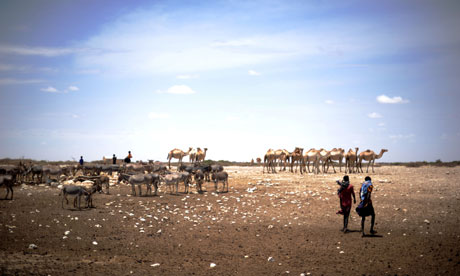 The current
drought
in
Somalia
is no ordinary drought. It is the worst the country has seen in 36 years. Most areas have received little or no rain for nine months. Pasture is depleted and cattle and goats are dying in large numbers, leaving thousands of animal carcasses littering the roadsides. People are seeing riverbeds dry for the first time in their lives.
Families are becoming destitute. They are dependent on livestock for survival, and have resorted to desperate measures to try to keep their animals alive. Many have used food normally kept for the family to feed their dying herds, some even going so far as to take the grass off the roofs of their houses, leaving them without adequate shelter. Children in particular are suffering from a lack of food and water. In some areas, malnutrition is affecting over 30% of children, one of the highest rates in the world.
In addition, prices of basic goods are rising and, in some regions, prices for cereals have increased by 135% since last year.
People in Somalia are no strangers to adversity. Since the 1990s they have suffered the effects of civil war and successive droughts, forcing nearly one and a half million people to flee their homes. The UN estimates that the current drought has displaced 55,000 people since January.
This combination of dry spells, violent conflict and rising prices has pushed Somalia to the brink.
The international community must do more to address the current crisis in Somalia. Due to a major funding shortfall, aid agencies are struggling to meet the needs of the 2.4 million people, a third of the population, affected by the crisis.
Although the rains have now come in some areas, the situation is likely to remain dire. It will take time for the pasture to regenerate. The drought has taken its toll on the ability of farmers and pastoralists who rear livestock and produce food. The next harvest, due in late July, is expected to be below normal. Lack of food is going to be a major problem in Somalia for the rest of this year.
Somalia is an extremely difficult and complex environment for international agencies, few of which are working on the ground. Getting access to those most in need is a challenge. Concern Worldwide focuses on the worst affected areas in the southern and central parts of the country, where we draw on our 25 years' experience in Somalia and strong links with local communities to reach the most vulnerable, and to help provide clean water, food and nutritional care, especially for mothers and children.
The complex nature of the situation in Somalia means this remains very much a hidden emergency. Events over the years have led to an image of a country mired in endless conflict, plagued by piracy and lawlessness. But there is another story, one of ordinary people persevering in the face of incredible odds to make a better life for themselves and their children.
The people of Somalia need our support, both to survive the current drought crisis and to improve their situation in the longer term. The international community must do more to help. It's not enough to respond in the short term when the situation is already grave. Greater commitment and more funding is needed to help people prepare for and withstand drought and other disasters. This will enable them to live a life of dignity and respect in the face of incredibly difficult circumstances.
• Sarah Robinson, Concern Worldwide's programme advisor for Somalia, is based in Nairobi