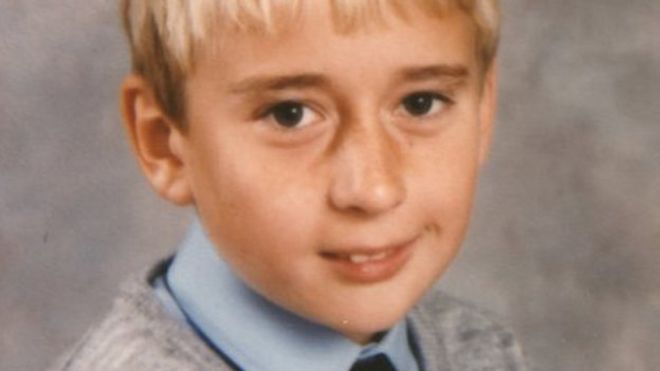 The best friend of a schoolboy who died after the 1989 Hillsborough disaster has described "trying to beg" a police officer for help after the crush began.
The inquests have been hearing about the death of 14-year-old
Lee Nicol
.
Austin Grimmant, a fellow Liverpool fan who was standing next to him, told the jury he thought a police officer found that Lee was breathing when he checked him on the Leppings Lane terrace.
Lee, who died two days later, was one of 96 people to suffer fatal injuries.
They were caught in a crush on the terraces at the Liverpool v Nottingham Forest FA Cup semi-final in Sheffield on 15 April 1989.
The jury heard how Lee arrived on the terraces between 13:00 and 13:30 BST, ahead of the 15:00 kick-off.
He and Mr Grimmant, then a schoolboy, were in the front corner of pen three, next to a fence that separated it from pen two.
Mr Grimmant said after players came on the pitch to warm up, there was a surge in the crowd.
"It pushed us against the fence, it kind of went on longer than you would like," he said.
'Seriously wrong'
Mr Grimmant said Lee then moved back on to a step behind him and was turned side-on in the pen.
Speaking through tears, the witness described how Lee was pushed into his chest by a much stronger surge.
He said Lee told him he was struggling to breathe while a man behind him was screaming.
Mr Grimmant said as soon as the second surge came and Lee became distressed, he tried to get the attention of a police officer on the pitch side.
"I was basically trying to beg him to do something because you knew something was seriously wrong.
"He just told people to move back."
Mr Grimmant said he lost sight of Lee.
He said Lee was wriggling on the floor but stopped moving and other fans were being pushed around him in the crush.

Who were the 96 victims?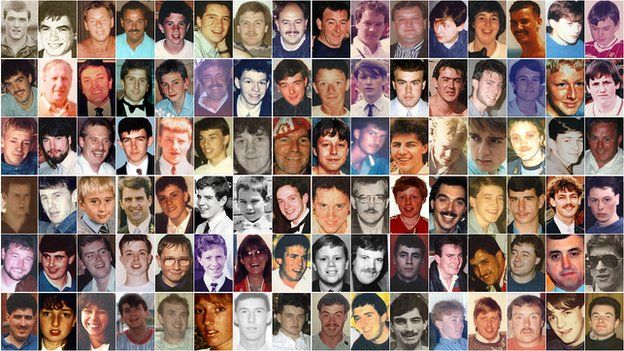 Another friend of Lee's, Alan Trees, was also in pen three. He told the jury he saw "quite a big man on top of Lee" who was "distressed" and "trying to get out himself but was, sort of, directly on top of Lee".
Mr Grimmant was helped into pen two and said from there he saw Lee was "crouched on the floor".
He added: "Everybody was talking about him, saying 'we have just got to get to this boy'."
He told the court he remembered a police officer was able to find Lee was breathing by reaching through the fence separating the pens.
At 15:11, five minutes after the match was stopped, supporters passed Lee over the fence to police officers in pen two.
Keith Marsh, a constable on duty at the match, helped carry Lee. He and a colleague took him away from the Leppings Lane end and placed him on the side of the pitch, near the South Stand.
Mr Marsh said Lee "seemed unconscious" and "quite obviously he was in need of medical treatment".
He and a colleague began trying to resuscitate him and at one point believed Lee "responded to the resuscitation" and was "possibly alive".
'No brain-stem activity'
Dr Michael Hutson, an off-duty doctor who went to the match with his family, also tried to resuscitate Lee.
He said the boy had "no spontaneous breathing" and "no pulse".
The jury also saw footage of Lee being wheeled on a stretcher across the pitch towards an ambulance.
Lee was the first casualty from the disaster to arrive at the Northern General Hospital, in Sheffield.
Medics were able to shock his heart into a normal rhythm and he was "quite stable" when he was transferred to the intensive treatment unit (ITU), although he was not breathing on his own, the court heard.
However, he showed "no signs of brain activity" on the day after the match and some of the systems in his body began to fail.
Dr Terrence Appleyard, the ITU consultant, said Lee was confirmed as being "brain-stem dead" on 17 April.
Lee carried an organ donor card and his kidneys and heart valves were donated.
His mother, Patricia Donnelly, travelled to Sheffield on the evening of the disaster and saw her son on a life support machine at the hospital.
She thanked Mr Grimmant and Mr Trees, as well as Mr Marsh and the medics who tried to help Lee, via her barrister Fiona Murphy.
The inquests in Warrington, Cheshire, are due to resume on Thursday.