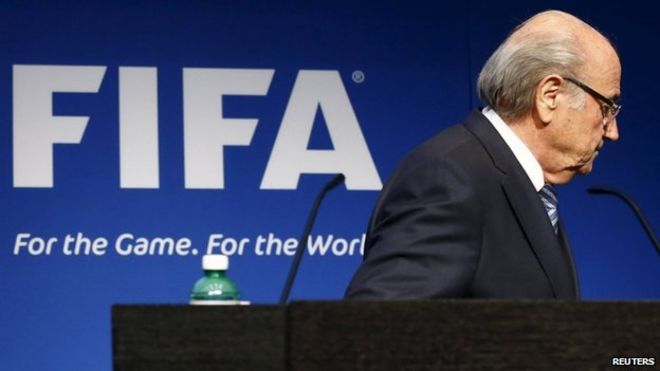 Fifa president Sepp Blatter is being investigated by US officials as part of their inquiry into corruption at the world football body, US media say.
The news came hours after Mr Blatter announced that he was stepping down from his role.
US prosecutors launched a criminal inquiry last week, with seven Fifa officials arrested in Switzerland, part of a group of 14 people indicted.
Two days after the arrests, Mr Blatter was re-elected president of Fifa.
However, he said on Tuesday that it appeared the mandate he had been given "does not seem to be supported by everyone in the world".
Mr Blatter said: "Fifa needs profound restructuring."
'Rampant corruption'
The BBC's Nick Bryant in New York says that several US officials told the New York Times that they are hoping to gain the co-operation of some of the Fifa figures now under indictment on charges of racketeering and money laundering to try to build a case against Mr Blatter.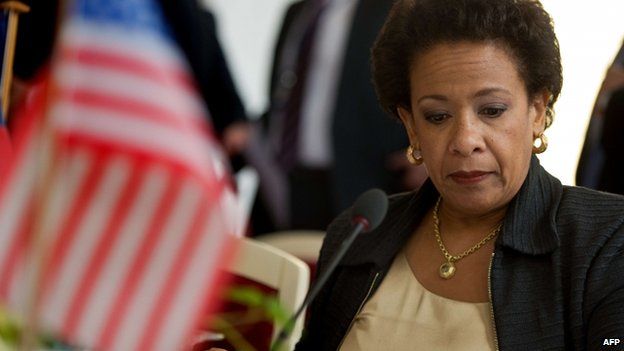 In announcing the US prosecution last week into what she called the "rampant, systemic and deep-rooted" corruption in world football, US Attorney General Loretta Lynch did not address Mr Blatter's position directly.
But she did say that this was the beginning of the investigation, not the end.
She also called for a new start at Fifa.
Our correspondent says it is primarily the US investigation that has plunged the world football governing body into its most serious crisis.
Earlier the FBI, Internal Revenue Service and the US Attorney for the Eastern District of New York, who is involved in the US prosecutions, all said they would not comment on the Blatter resignation.
In its prosecution, the US justice department said 14 individuals were under investigation worldwide for allegedly accepting bribes and kickbacks estimated at more than $150m (£97m) over a 24-year period.
Two vice-presidents were among the seven Fifa officials arrested in Zurich. They all await US extradition proceedings.
The arrests overshadowed the vote for a new president, which Mr Blatter won, defeating his sole challenger, Prince Ali bin Al Hussein of Jordan.
Prince Ali withdrew despite forcing a second round, having lost the first by 133 votes to 73.