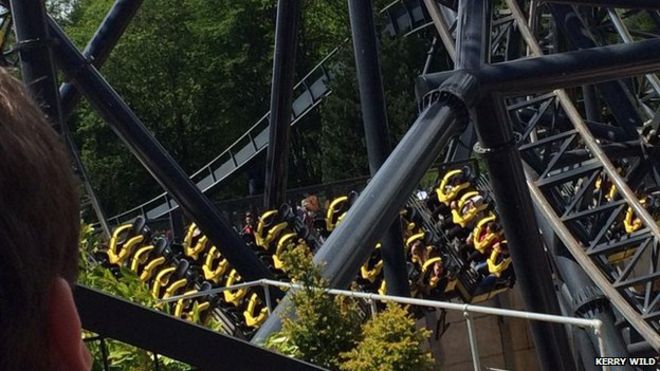 Four people have been seriously injured in a crash between two carriages on a ride at Alton Towers in Staffordshire.
Sixteen people were on one carriage of the Smiler ride, the other was empty.
The resort said their first aid staff were on the scene and emergency crews were building a platform to help reach those on the ride.
The air ambulance is also in attendance following the collision that happened at 14:09 BST.
Eyewitness Ben Richardson said: "When the second carriage crashed people were screaming and shouting - even after it stopped. Everyone around the park ran over.
"The people looked significantly distressed. It was almost like a car crash, very full on."
'Serious injuries'
Sophie Underwood was also in the park at the time. She said quite a few people were hurt.
"It wasn't very high but it was obviously high enough for them to cause some quite serious injuries to the people that were on the rollercoaster.
"They literally had come back off and round the back of a loop, and straight into another empty coach that had been stuck.
"There was a big crash, and I think there were quite a few people that were angry cos they said that they had told the staff that the coach before had stopped but they hadn't actually called through."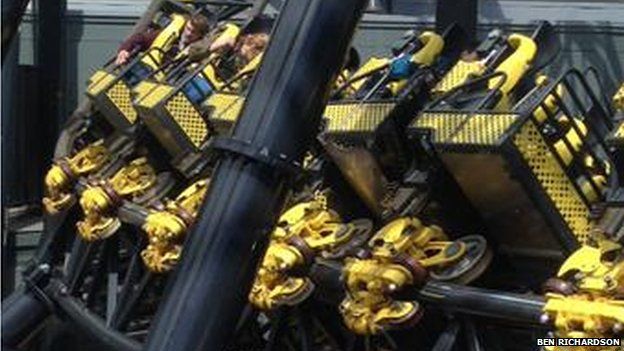 Merlin Entertainment, which runs the resort, said in a statement: "There has been an incident on the Smiler this afternoon involving two carriages coming together on a low section of the track. One of the carriages was empty and the other had 16 guests in.
"The Resort's fully qualified First Responders were on the scene immediately to assist with the evacuation which is ongoing, and the area has been closed to allow for access to emergency services vehicles."
14-loop rollercoaster
The Smiler opened in May 2013 and is billed as the world's first 14-loop rollercoaster.
It holds the official Guinness World Record for most loops in a rollercoaster, according to the Alton Towers website.
The resort claims it features "a series of twisted psychological effects including optical illusions, blinding lights and near misses designed to mess with your mind".
There have been several accidents and incidents involving the £18m ride since it opened in May 2013.
'Left dangling'
The injured people were looked after by park staff and did not need treatment by the ambulance service, a spokeswoman said at the time.
It its statement Merlin Entertainment added there would be a "full investigation once we have recovered the guests who are our priority."