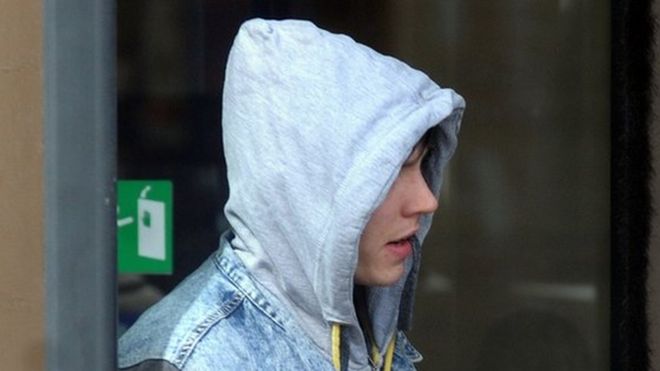 A man who left a baby blind and brain damaged after shaking and dropping her in a fit of anger has been jailed for four years and four months.
Andrew Morrison, 25, from Kilmarnock, was babysitting the three-month-old while her mother was at a concert.
The High Court in Glasgow heard that he lost control, because the baby was fractious, on 19 April last year.
He later admitted assaulting the baby to her severe injury, permanent impairment and danger of life.
'Catastrophic consequences'
Jailing Morrison, judge Lady Scott told him: "The effect on her, her mother and family is devastating.
"I accept you shook her in a momentary lapse of control and you are truly remorseful.
"However, your victim was a defenceless baby and the consequences of your violence were catastrophic. It is difficult to think of a more vulnerable victim."
The court heard that when the baby's mother returned home she immediately realised something was wrong.
The child was rushed to hospital, groaning and with her eyes rolling backwards.
Advocate depute Alison di Rollo, prosecuting, said the baby - who cannot be identified for legal reasons - was "twitching and groaning, consistent with fitting".
Morrison claimed the child would not take her milk when he tried to feed her and had been making noises.
'Upset and agitated'
She was pale and clammy and totally unresponsive when medics saw her.
Morrison asked if the injuries suffered could be caused by a bumpy bus journey or bumping the buggy, but was told that "could not account for the injuries sustained by the child".
He and the child's mother were put in separate rooms at Yorkhill Hospital, Glasgow after she became extremely upset and challenged him about what happened.
Ms di Rollo added: "Once in the other room the accused became increasingly upset and agitated and in the presence of two police officers he stood up and stated 'I shook her and I dropped her, I was frustrated', making a shaking motion with his hands as he did so."
The child, how aged 15 months, has cerebral palsy, is registered blind and and will need lifelong care.
Defence counsel Frances Connor said: "The baby was fractious. He should not have lost his temper at her. He is remorseful and will never forgive himself."