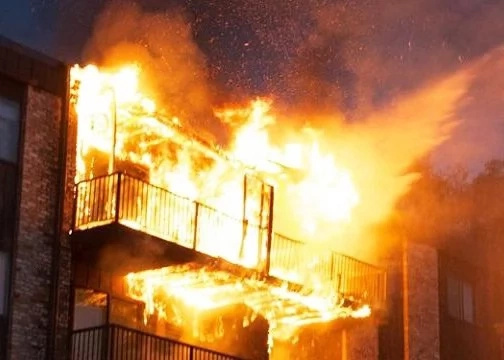 – The house belonging to Mbalambala Member of Parliament Abdikadir Aden was razed down by a mysterious fire on Monday, May 23 that destroyed property worth hundreds of thousands of shilings
– The cause of the fire is yet to be known but police suspect electrical failure
– Police have started investigations to find out the real cause of the fire
Police have started investigations on the cause of the fire that destroyed property worth hundreds of thousands of shilings that belonged to Mbalambala Member of Parliament Abdikadir Aden.
The MP's house located at Kirichwa Heights Apartments burnt down on Monday, May 23 in mysterious circumstances.
Kilimani Police Commander Peter Kattam confirmed the house of the legislator had burnt down.
"We got reports at around

8:15 pm

on Monday

that there was fire at Kirichwa Heights Apartments. We rushed to the scene and started putting out the fire. Unfortunately, the flames were very intense such that by the time we subdued it, two floors had been extensively damaged,"

Kattam said.
Police said they are yet to confirm the total value of the property damaged and that no one was hurt in the incident.
"We are waiting for house owners to confirm the absolute value of property burnt, though we suspect property worth hundreds of thousands was razed, i wish to confirm that nobody was burnt." Kattam said.
Police said they have started investigations with the help of the Nairobi County inspectorate to find out the real cause of the fire