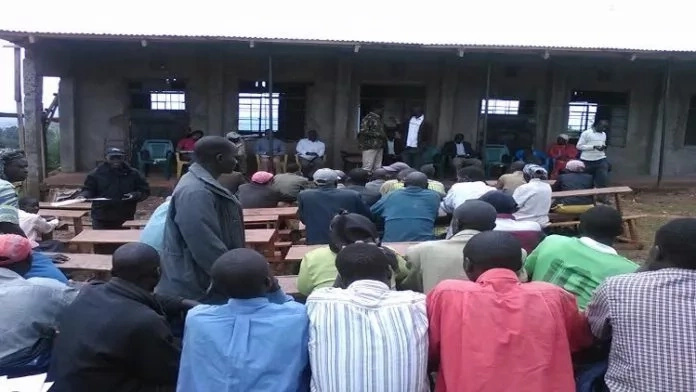 – Parents of a secondary school in Trans Nzoia stormed the institution after learning of the director's alleged naughty behaviour of sleeping with students
– Area residents lament that cases of sex with minors have been on the rise, as culprits go scot-free due to the cases being solved outside court by the parties invoved
There was drama at a private secondary school in Trans-Nzoia's Saboti Sub-County when parents stormed the school following accusations that the school director was sleeping with students.
The irate parents of Kings and Queens Secondary School learnt that the school boss, identified as Francis Lusosi, had earlier secured a sick-off for one of the students so that he could take the girl out of school and have sex with her, reported West FM.
Lusosi was not present when the parents came baying for his blood, and they held a meeting to chart the way forward.
The matter has already been reported to police, who have promised action.
Residents lament that the area continues experiencing rising cases of defilement, as perpetrators are let free by settlements outside the law.
Tom Masika, headmaster of the nearby Lutaso Primary School where 11 girls recently dropped out of school due to pregnancies, expressed frustration over police apparently not pursuing such cases to the end.
"I have written letters to the police severally over the issue, but the culprits are let to walk home scot-free after negotiations from the parties involved," said Masika.
Endebess region children officer, Wilfred Asegele, agreed with the challenge, saying parents normally end up negotiating dowry with suspects of defilement as a way to settle a case, thus encouraging the vice.
"Parents should make sure that any case pertaining to defilement is reported to police or the children's office, for appropriate action to be taken against the culprits," appealed Asegele.
Kitale Peace and Rights representative Richard Lusweti warned that parents who interfere with justice by locally solving cases of sex with minors, would face charges in court.