Canada wildfire: Alberta blaze threatens neighbouring province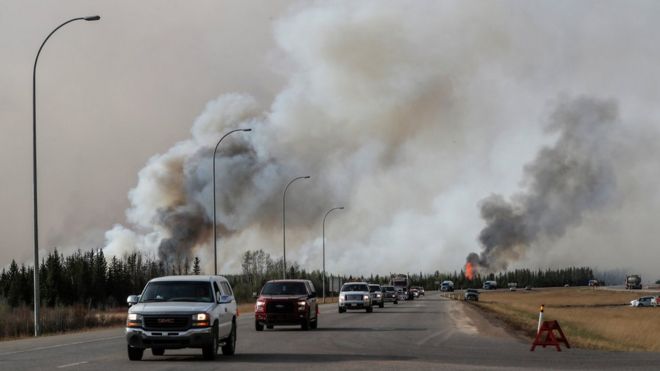 A huge wildfire raging in the Canadian province of Alberta is growing further and could spill in to neighbouring Saskatchewan, officials say.
Hot, dry and windy conditions are hampering efforts by hundreds of firefighters to tackle the blaze.
The flames have already caused the evacuation of 80,000 people from the oil city of Fort McMurray.
Thousands are still stuck north of the city and their evacuation will now not be completed before Sunday.
"In no way is this fire under control,'' said Alberta Premier Rachel Notley.
The wildfire now covers an area of more than 200,000 hectares (495,000 acres), which includes areas still ablaze and areas already burnt.
"Fire conditions remain extreme," said the Alberta Emergency Management Agency late on Saturday.
There is the possibility of rain on Sunday and Monday.
Earlier this week, most evacuees headed south but some fled north, sheltering in work camps beyond Fort McMurray.
Thousands have since been shuttled out by road and air, with small convoys passing through the fire-ravaged city on Saturday.
Ms Notley had said the goal was to complete the evacuations by the end of Saturday, but there are still people in the camps north of the city and the operation to evacuation them will now continue on Sunday.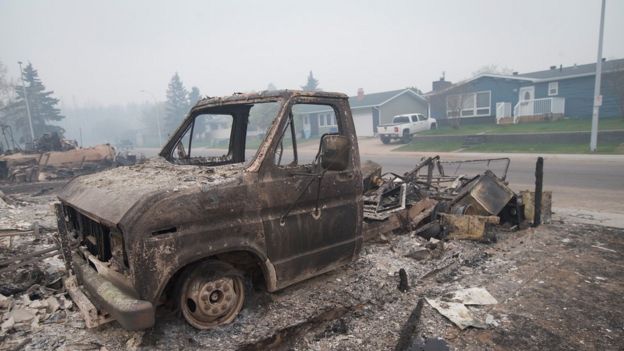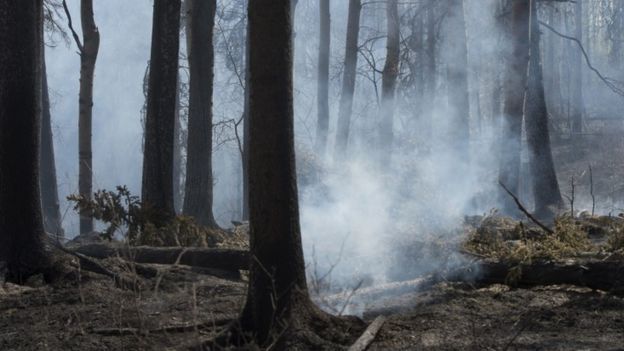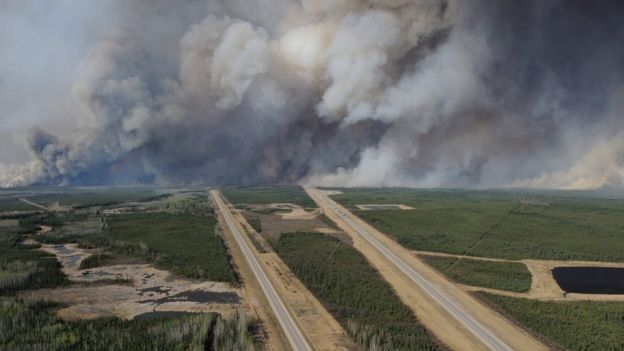 The blaze has ruined entire neighbourhoods, with residents warned it could be some time before they could return.
Despite the mandatory order to leave, the Royal Canadian Mounted Police (RCMP) have said they found an elderly man and a family of five in Fort McMurray. They were led to safety.
Some 1,600 homes and other buildings have been lost but no deaths or injuries have been reported.
See how the Fort McMurray fires spread
4 May 2016
Fort McMurray is in the heart of Canada's oil sands country, and the region has the world's third-largest reserves of oil.
As much as a quarter of the country's oil production has been halted by the fire, raising concerns about the effect on the Canadian economy.
There are warnings the blaze could burn to the edge of a facility run by Suncor Energy but officials said the site is highly resistant to fire damage.
---
'Complete blocks levelled'
Local DJ Chris Byrne was allowed back into Fort McMurray to check on the damage. He told BBC Newshour what he found.
"Downtown for the most part is still for the most part intact, I think only one building was affected.
"Where I live, in the north end of town, there really wasn't much damage. There are still people living there that just refused to evacuate.
"The worst parts of the city are exactly how people imagined a wildfire going through a town would look like.
"Complete blocks [are] levelled and charred and it looks like a horrific scene."
---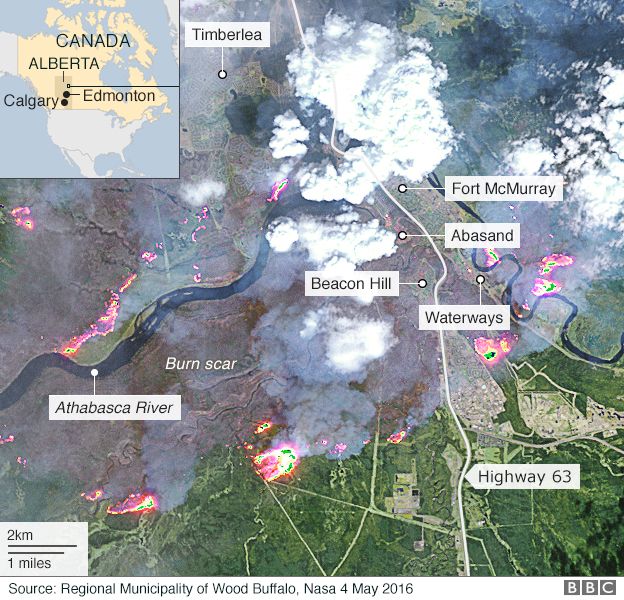 ---
Are you in the area? Have you been affected? You can share your experience by emailing
haveyoursay@bbc.co.uk
.