Palmyra: Syria forces 'retake' Islamic State-held city


Syrian government forces have re-captured the ancient city of Palmyra from so-called Islamic State (IS), say state media and a monitoring group.
President Bashar al-Assad hailed it as an "important achievement" in the "war against terrorism".
The Syrian army had been gaining ground for several days, supported by Russian air strikes. Military sources say the army now has "full control".
IS seized the Unesco World Heritage site and modern town in May 2015.
Images released by the Syrian military on Saturday showed helicopters and tanks firing at positions in Palmyra.
The date of the footage could not be independently verified.
The Syrian Observatory for Human Rights, a UK-based monitoring group, said there was still gunfire in the eastern part of the city, but the bulk of the IS force had pulled out and retreated further east.
In a statement
released on Saturday, Russia's defence ministry said the strikes hit 158 IS targets, killing more than 100 militants.
---
A victory for Assad - Lina Sinjab, BBC News, in neighbouring Lebanon
This is a victory for President Bashar al-Assad, who wants to show the world that he is a partner in fighting terrorism.
Backed by Russian war planes and Shia militias, government forces gained control over the ancient city and are now close to securing a vast area of the country.
But residents and observers cast doubts on why Mr Assad's forces pulled out from Palmyra in the first place, allowing Islamic State (IS) militants to get in to the city.
In May 2015, hundreds of IS fighters drove tens of thousands of kilometres across the desert to reach Palmyra, almost uninterrupted, while government forces were dropping barrel bombs over opposition areas full of civilians.
President Assad has now secured a stronger position in the peace talks. He is certainly seen as a problem-solver, but many say he is the source of the problem.
---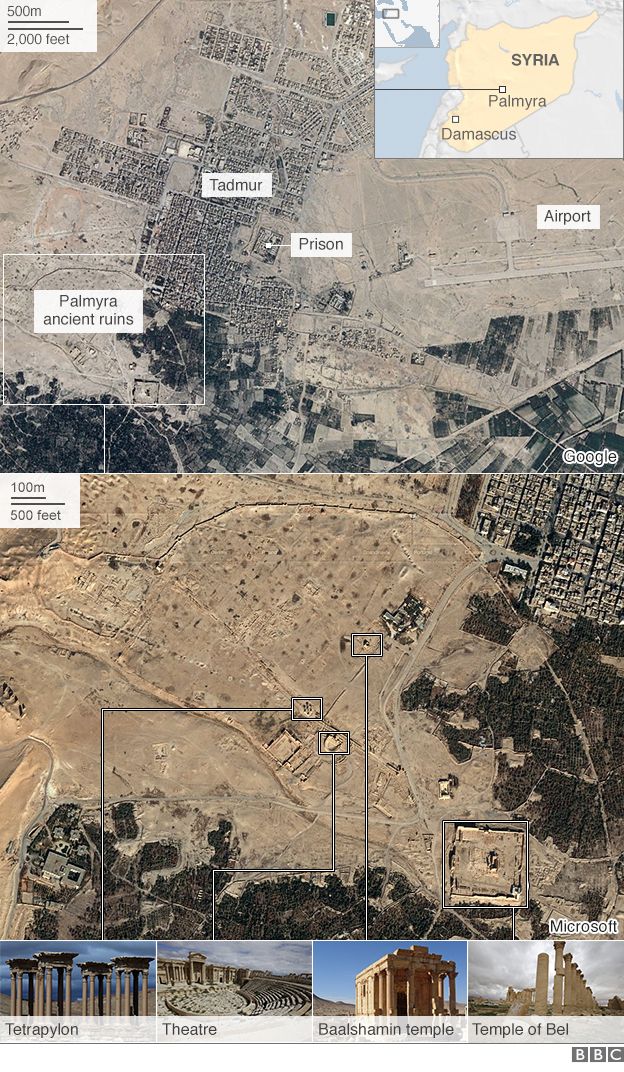 Destruction of ancient sites
When IS seized the city it destroyed archaeological sites, drawing global outrage. Two 2,000-year-old temples, an arch and funerary towers were left in ruins.
The jihadist group, which has also demolished several pre-Islamic sites in neighbouring Iraq, believes that such structures are idolatrous.
The prospect of the city's liberation was welcomed by Unesco, the UN's cultural agency, which has described the destruction of Palmyra as a war crime.
The head of Syria's antiquities authority, Mamoun Abdelkarim, promised to repair as much of the damage as possible as a "message against terrorism".
---
Ancient city of Palmyra

Unesco World Heritage site
Site contains monumental ruins of great city, once one of the most important cultural centres of the ancient world
Art and architecture, from the 1st and 2nd centuries, combine Greco-Roman techniques with local traditions and Persian influences
More than 1,000 columns, a Roman aqueduct and a formidable necropolis of more than 500 tombs made up the archaeological site
More than 150,000 tourists visited Palmyra every year before the Syrian conflict