EU Referendum: Boris Johnson compares EU's aims to Hitler's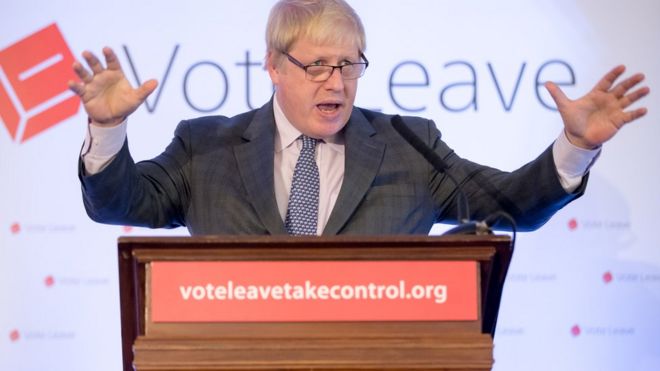 Boris Johnson has compared the EU's aims to Hitler's, saying both involved the intention to unify Europe under a single "authority".
The pro-Brexit Tory MP said both the Nazi leader and Napoleon had failed at unification and the EU was "an attempt to do this by different methods".
Shadow foreign secretary Hilary Benn, who backs Remain, said the comparison was "offensive and desperate".
Meanwhile, UKIP leader Nigel Farage has backed Mr Johnson to be the next PM.
The referendum takes place on 23 June, when voters in the UK will be asked whether they want the country to stay in or leave the European Union.
"Napoleon, Hitler, various people tried this out, and it ends tragically. The EU is an attempt to do this by different methods," he said.
"But fundamentally what is lacking is the eternal problem, which is that there is no underlying loyalty to the idea of Europe.
"There is no single authority that anybody respects or understands. That is causing this massive democratic void."
'Divisive politics'
Rejecting Mr Johnson's analysis, Mr Benn said: "Leave campaigners have lost the economic argument and now they are losing their moral compass.
"To try and compare Hitler and the Nazis - the millions of people who died in the Second World War, the Holocaust - with the free democracies of Europe coming together to trade and co-operate, and in the process to help to bring peace to the continent of Europe after centuries of war, is frankly deeply offensive."
Former Labour minister Yvette Cooper, who also supports the Remain campaign, accused Mr Johnson of a "shameful lack of judgement" and a willingness to play "the most divisive, cynical politics".
Lord Bramall, a former head of the British army, said making a comparison between the EU and Nazi Germany was "absurd".
He added: "Hitler's main aim was to create an empire in the East and violently subjugate Europeans. Any connection between that and the EU is simply laughable."
'Historical parallels'
But Tory Leave campaigner Jacob Rees-Mogg said Mr Johnson's comments were "absolutely true".
He said Hitler and Napoleon "wanted to create a single European power... by force. And the EU is trying to do it by stealth."
Former Conservative cabinet minister Iain Duncan Smith told the BBC Mr Johnson's article was "rather good" and used "some historical parallels" to explain the concept of "greater Europe".
"I think the whole process of trying to drive Europe together by force or by bureaucracy or whatever other means ultimately makes problems, and that's what he was saying."
Conservative MP Chris Grayling said Mr Johnson's comparison represented the words of a "historian who was doing a piece of historical analysis".
He said: "If you look 10 years down the road, there are clear plans to create a federation in the eurozone that is going to dominate.
"It is going to look like a United States of Europe."
Mr Carney told the BBC's Andrew Marr Show the Bank's role was to "identify risks, not to cross your fingers and hope risks would go away".
'Disappointing'
Also on Marr, Northern Ireland First Minister Arlene Foster, who backs Leave, rejected suggestions leaving the EU could harm relations with the Republic of Ireland or damage the peace process.
"The peace process is not built on the European Union," she said, adding it had been "disappointing" to see former Foreign Secretary William Hague suggest there could be a negative impact.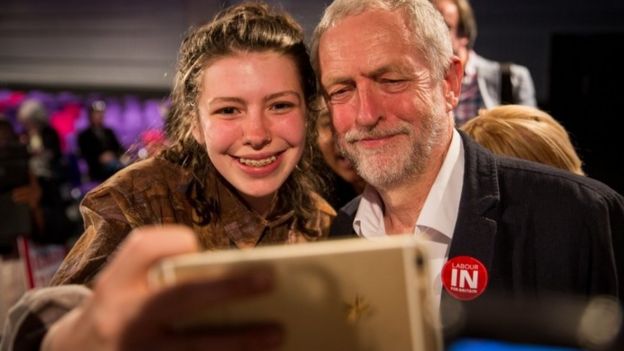 Labour leader Jeremy Corbyn, who also backs Remain, told ITV's Peston on Sunday he wanted an EU that was "a unity of people of the left... collectively working for a better standard of living across Europe".
Asked how he and Mr Cameron could have such different views yet both support Remain, he said people should "listen to both of us and make up their minds".
But he said the two were unlikely to share a platform. "I don't think it would work," he said.
Mr Farage, who is due to take part in a debate with Mr Cameron, told Peston he could understand why the prime minister was unwilling to debate a pro-Brexit Conservative minister.
He said Mr Cameron feared "it could lead to divisions [in the Tory party] that could never be mended".
With less than six weeks to go until the vote, polls have put the Remain and Leave campaigns at roughly 50-50.