Harlesden shop bus crash leaves at least 13 injured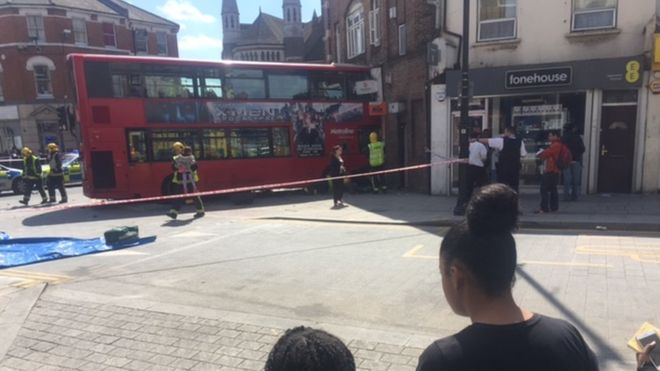 At least thirteen people have been left injured after a bus crashed into a shop in Harlesden, north west London.
The route 18 double-decker bus struck the store front, at the junction of Harlesden High Street and Manor Park Road, at about 14:00 BST.
Two people were seriously injured, London Ambulance Service (LAS) said.
London Fire Brigade said 20 people were helped out of the bus and 45 people evacuated from nearby buildings.
Eyewitness David Minogue, 34, said he had been walking along the street when "all of a sudden a bus ploughed across the pavement".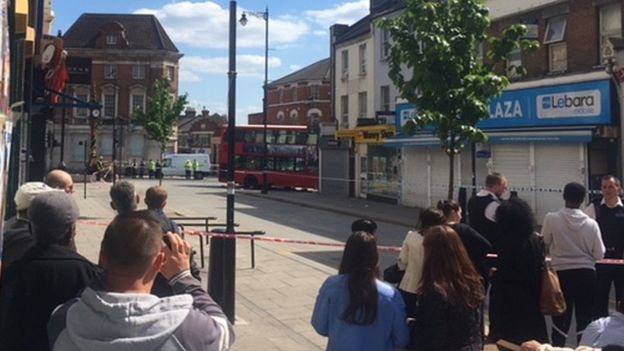 "It was so quick, I just saw this big red bus flying across the road, knocking down the traffic light pole and crashing into the shop," he said.
Mr Minogue said he saw windows being smashed at the back of the bus's top deck to enable people to jump to safety.
"I live about three bus stops away and it would have been the bus I would have got on," he said.
Mr Minogue, who has always lived in the area, added the road layout had recently been revamped and barriers at the corners of the roads were removed. Brent council has been contacted for comment.
Kevin Brown, Deputy Director of Operations at LAS, said "multiple resources", including a hazardous response team, had been dispatched to the scene.
London Fire Brigade station manager Sam Kazmanli said: "The building has been severely damaged so a cordon has been put in place and people have been evacuated from the area.
The High Street has been closed each way between Acton Lane and A404 Manor Park Road.