India politician's son held over road rage death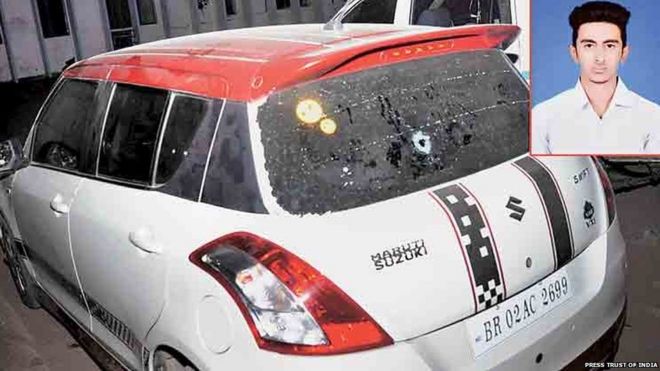 Police in India's Bihar state say they have arrested the 20-year-old son of a lawmaker suspected of killing a student in a road rage attack.
Rocky Yadav is accused of shooting dead student Aditya Sachdeva near the town of Gaya after a dispute.
Mr Yadav's father and a security guard were briefly held on suspicion of helping him to evade arrest.
It comes after protests demanding his arrest erupted in Gaya with roads blocked by furious residents.
Rocky Yadav's mother, Manorama Devi, is a member of the state legislature, belonging to Janata Dal (United), the governing party in Bihar.
She told reporters on Monday that the family had not "played any role in [her son's] escape".
Her husband, Bindeshwari Prasad Yadav, has said his son defended himself after occupants of the other car attacked him.
One of Mr Sachdeva's friends gave his account of the incident on Saturday night.
"We were returning from Bodh Gaya [a popular tourist spot] and soon after we overtook the SUV [carrying Rocky Yadav] they started firing in the air and made us stop," the student's friend Aayush Kumar said.
"Then they forced us to get out of the car and started punching us. When we tried to leave the spot, someone fired and my friend got hit."