Parliament in Turkey backs lifting immunity from prosecution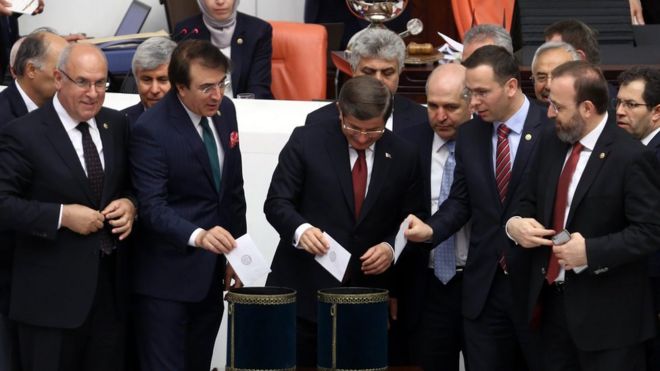 The Turkish parliament has approved a controversial bill that will strip MPs of their immunity from prosecution.
Pro-Kurdish lawmakers say the bill is essentially a move to expel opposition members from parliament.
The measure is seen as targeting the pro-Kurdish Peoples' Democratic Party (HDP) as well as the main opposition Republican People's Party (CHP).
Turkey has led an offensive against the PKK, accused of being a terrorist group.
A ceasefire ended weeks after elections in June 2015. The renewed conflict has claimed hundreds of lives on both sides, particularly in the south-east.
President Recep Tayyip Erdogan has called for pro-Kurdish MPs to face terrorism charges and Friday's vote could be a first step towards making that happen.
The bill was backed by 376 MPs in the 550-seat legislature, which means it will become law directly without being put to a referendum, parliamentary speaker Ismail Kahraman said.