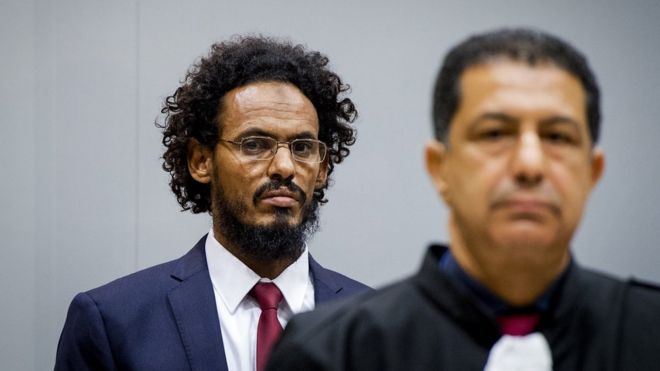 A suspected Islamist militant is to become the first person to go on trial at the International Criminal Court (ICC) over the destruction of cultural heritage.
Ahmad al-Faqi al-Mahdi faces charges of destroying nine shrines and a mosque in Timbuktu, Mali, in 2012.
Prosecutors say he was a member of Ansar Dine, an Islamist group that occupied the city's world heritage site for months.
Islamists regard shrines as idolatrous.
Monday's case in The Hague is the first time destroying cultural heritage has been prosecuted as a war crime, and the first time a suspected Islamist militant has gone on trial at the ICC.
Mr Mahdi was handed over by Niger's government after the ICC issued a warrant for his arrest.
Our correspondent in The Hague, Anna Holligan, says Mr Mahdi is expected to become the first ICC suspect to plead guilty, which means the trial will probably be over by the end of this week.
Nine victims will share their experiences in court, she says. Human rights groups say their presence is especially significant in demonstrating how the destruction of cultural heritage not only harms buildings but tears through the social, cultural and historic fabric of communities.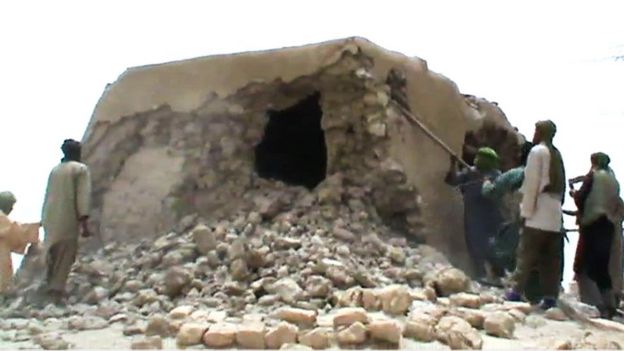 At the time, the chairwoman of Unesco said the
attack on the shrines
of local saints was "tragic news for us all".
Timbuktu is famous for its distinctive mud and wood architecture. It was a centre of Islamic learning between the 13th and 17th centuries and was added to the Unesco world heritage list in 1988.
Ansar Dine, an extremist militia with roots in the nomadic Tuareg people, has ties to al-Qaeda and destroyed the shrines believing them to be idolatrous.
The court has previously heard that Mr Mahdi, a former teacher aged about 40, was a "zealous member" of the militia. He is alleged to have been the head of the section that enforced strict Islamic law in Timbuktu.
---
Treasures of Timbuktu

Timbuktu was a centre of Islamic learning from the 13th to the 17th Centuries
700,000 manuscripts had survived in public libraries and private collections
Books on religion, law, literature and science
Added to Unesco world heritage list in 1988 for its three mosques and 16 cemeteries and mausoleums
They played a major role in spreading Islam in West Africa; the oldest dates from 1329
Islamists destroyed mausoleums after seizing the city in April 2012