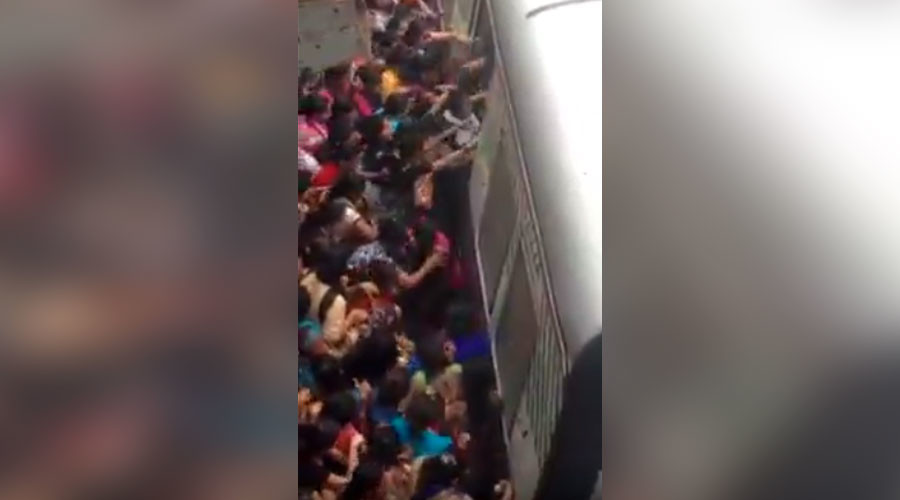 Appalling footage has emerged showing commuters falling onto tracks during a mass stampede to board a women-only train in Mumbai, India.
In the video posted to Youtube, thousands of women are seen crammed along the platform as the train pulls into the station. At first they jostle for position before some throw themselves through the carriages' open doors while the train is still moving.
This prompts a surge from those at the back of the platform desperately seeking to board and the result is stomach-churning. A number of women closest to the train lose their feet and are trampled on by the crowd while a handful fall into the gap between the train and the platform.
Some are seen to extricate themselves yet the crush continues as commuters battle to get on board. It's not known if anybody was seriously injured
Women-only trains were introduced to Kolkata, Dehli and Mumbai back in 2009 in response to the widespread problem of sexual violence towards women in India. A
recent survey
by the Tata Institute of Social Sciences found that almost one-quarter of women commuters have suffered harassment while using Mumbai's trains.
India's railways are known for their chaotic and dangerous nature due to massive overcrowding and as a result there are frequent fatalities amongst commuters.
Back in January a woman was killed in horrific
circumstances
as she disembarked a train at a Mumbai station. Part of her clothing became entangled in the carriage and she was dragged along the platform before being pulled under the train.