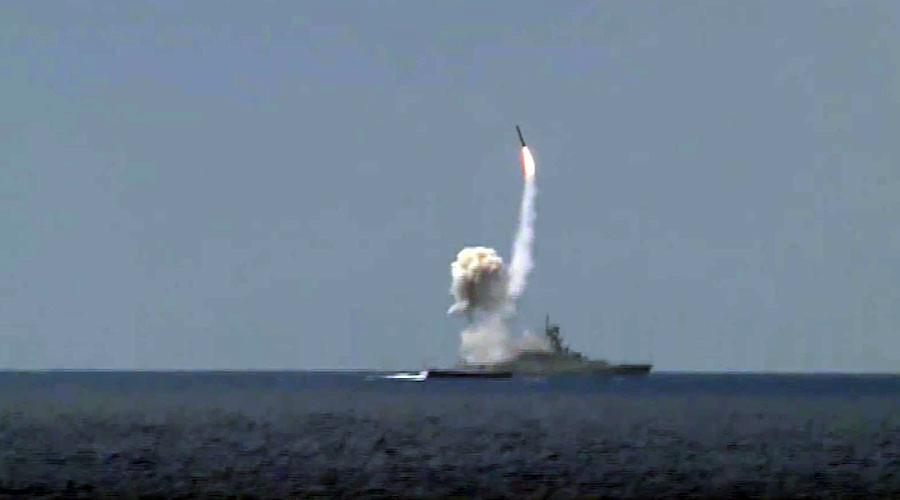 The Russian Defense Ministry has said Black Sea Fleet warships have launched three cruise missile strikes on terrorist targets in Syria. A terrorist command post and munitions production site were destroyed.
"As a result of the strikes a command post and a terrorist base near the village of Dar Taaza as well as a production site of mortar ammunition and an arms depot in Aleppo province were destroyed," the ministry said in a statement.
The rockets, targeting Al-Nusra Front sites, flew over unpopulated areas, the Russian military added.
"To ensure the safety of civilians the missile flight corridor was planned over an uninhabited area."
On Monday, Russia launched tactical naval drills in Mediterranean and Caspian waters. The warships taking part in the exercise engaged in live artillery and missile fire "under simulated battlefield conditions." The Mediterranean force includes two fast attack guided missile craft, both armed with Kalibr-NK cruise missile complexes equipped with eight missiles each.
On October 7, 2015, four Russian Navy warships in the Caspian Sea fired a total of 26 missiles at positions in Syria held by Islamic State (IS, formerly ISIS, ISIL). The missiles traveled some 1,500km and eliminated 11 targets.