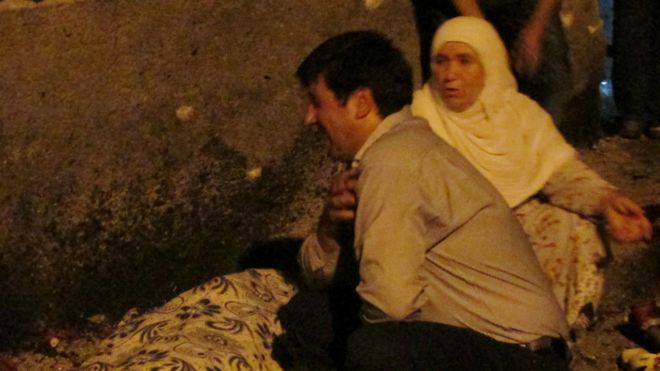 An explosion near a wedding in the southern Turkish city of Gaziantep has killed at least 22 people and injured 94 more, the region's governor says.
The Turkish government has called it a "terror attack" and suggested it was carried out by a suicide bomber.
Gaziantep, which is mainly Kurdish, is about 64km (40 miles) from the Syrian border. A suicide bomber killed two policemen there in May.
"There are people who lost their lives and we have initial information suggesting it was a bomb attack," said Turkish MP Mehmet Erdogan of the ruling Justice and Development Party (AKP).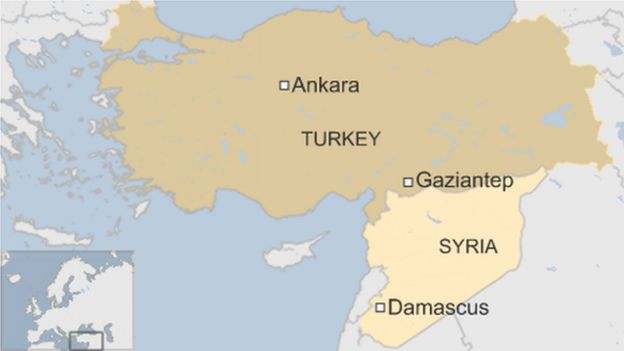 ---
Was IS behind this? Mark Lowen, Istanbul
No group has said it was behind the bombing - but government sources say it could have been carried out by so-called Islamic State, which is known to have operatives in the border city of Gaziantep.
Turkey has been hit by a series of bombs both by IS and Kurdish militants in the past year, with the last
IS attack on Istanbul airport
in June, killing more than 40 people.
The jihadists have recently lost ground in northern Syria, including a former stronghold, Manbij. Syrian rebel soldiers are preparing to advance further into the IS-held province of Jarablus.
If this bomb was the work of IS, there will be speculation it is a revenge attack, intended as a show of strength by a group on the defensive.
---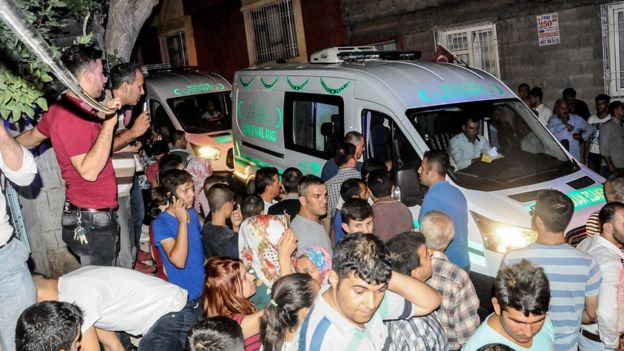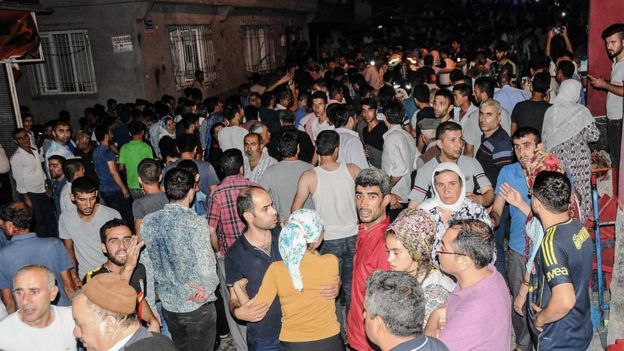 Gaziantep Governor Ali Yerlikaya told Turkey's Anadolu news agency that the "terror attack" took place in Akdere, in the city's Sahinbey district.
Southern Turkey has been hit by several deadly blasts over the past year, linked either to Kurdish separatist militants or so-called Islamic State (IS).
Often the attacks were linked to developments in the war raging in Syria.
In northern Syria, just south of Gaziantep, there has been heavy fighting between Syrian Kurdish YPG forces and IS jihadist militants.
The border town of Kobane was wrested back from IS control by Kurdish-led forces in January 2015, after months of bitter fighting.
There has been a spate of bombings in eastern Turkey in recent months blamed on the rebel Kurdistan Workers' Party (PKK).
Earlier on Saturday,
Turkey's government said
the country would take a more active role in efforts to end the war in Syria. Prime Minister Binali Yildirim said a future political settlement for Syria must not include Mr Assad, the PKK or IS.
"In the six months ahead of us, we shall be playing a more active role," Mr Yildirim said. "It means not allowing Syria to be divided along ethnic lines."