Motorists are facing a second day of tailbacks through Kent, due to delays with French border checks at the Port of Dover.
The government said UK officials helped at French border posts overnight and remain on standby after motorists suffered "extraordinary disruption", with some queuing for up to 14 hours.
Delays began on Friday night and could last until Monday, police have warned.
Kent Police said it would "proactively" manage traffic to ease congestion.
A spokesperson told the BBC that current delays were due to more traffic heading to the port, as it continues to deal with Saturday's backlog.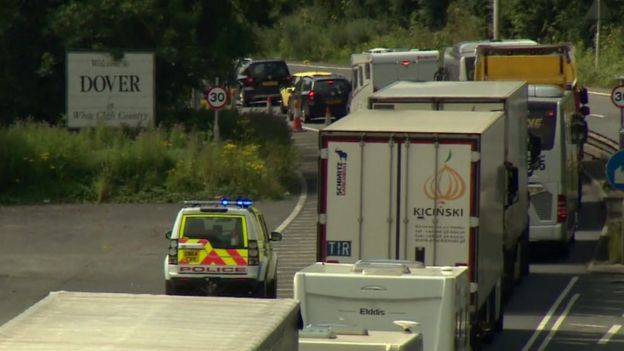 Parts of the London-bound carriageway of the A20 have been closed to help with the distribution of water by Kent Police, coastguards and volunteers. Police said limited toilet facilities were also being provided.
Angie Elliot Dickson from Highways England advised people to prepare themselves for the delays.
She told the BBC that motorists should "ensure that they bring plenty of food and water, toys for the kids to play with, take regular breaks, make sure they're topped up with fuel. All the sorts of things, you know, that they're really ready and prepared because there are delays. There will be delays."
Police are advising people to consider taking alternative routes or altering travel arrangements, while ferry operator DFDS Seaways is instructing drivers to take the M2/A2 to reach the port.
'Seriously understaffed'
Police said disruption had been caused by the "vast volume of holiday traffic" coupled with delays caused by heightened security at the border - brought in following recent terror attacks in France.
However, the Port of Dover authority said the French border control booths in Dover were also "seriously understaffed" on Friday night, with long traffic jams forming on the A2, A20 and M20.
A government spokeswoman said: "We understand that there has been extraordinary disruption in the Dover area today but safety is paramount.
"Measures are also being taken on the approach to the port where Kent Police will be proactively managing traffic to speed up the process."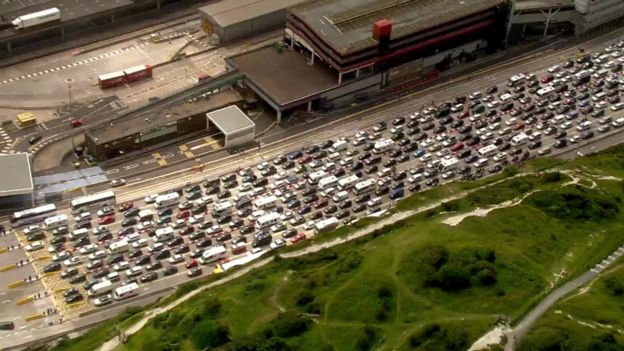 The spokeswoman added that the UK recognised the "security pressures" that French law enforcement organisations were under at Dover.
The Home Office later explained: "The French have stepped up security checks at the border since Nice, but what that involves is up to them. During the Euros they also increased security."
The Port of Dover told the BBC that although UK officials were unable to conduct passport checks at the French border, they had helped with the searching of vehicles.
However he dismissed claims by some motorists that the French authorities were "punishing" British holidaymakers for the Brexit vote.
Mr McLoughlin said: "To the French and to us, tourism is a very important industry and nobody wants to see people starting their holidays getting frustrated in the way that they are and held up.
"I know there have been discussions between our government and the French government to make sure that we try and ease the situation as much as we possibly can."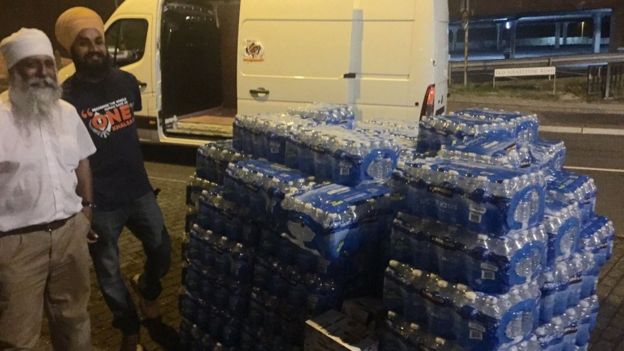 One motorist caught up in the tailbacks, Alison Dallara, told the BBC that she turned away from Dover on Sunday morning to catch the Eurotunnel from Folkestone instead.
She said: "We are now on board and half way through the tunnel, 20 minutes' wait time and, if you have a flexible ferry ticket, you can get a full refund".
Playing outside
Rob Jackson, who is travelling from Yorkshire to Italy, was stuck with his partner and two children , aged 11 and 14. They had been planning to catch a ferry at 14:00 BST on Saturday.
However, on Saturday night they were still eight miles away from the port.
"The kids are OK, they have been playing outside in the traffic. There is not much they can do and there is not much we can do."
He added: "We are OK at the minute, but for people with small children and older people, I am sure they have suffered much more than we are."
Another motorist told BBC Radio 5 live he had been on the road for nearly 24 hours with his wife and three children.
He said: "We left Birmingham at nine o'clock yesterday [Saturday] morning. My little one has just thrown up, he's been feeling car sick for the last couple of hours and he's just thrown up. But apart from that the other two are OK.
"The good thing is we've got a seven-seater, and we took a couple of the seats out and put a foam mattress in, so that they could lie down and have a kip."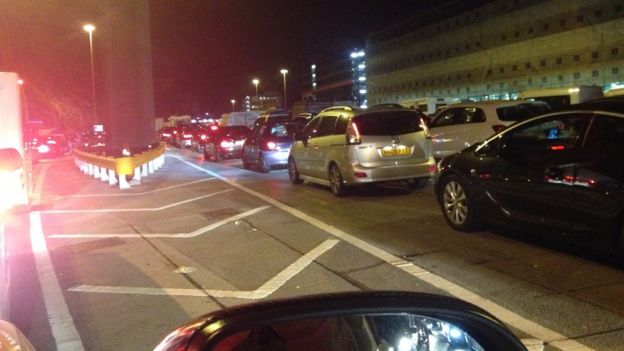 France has been under a state of emergency since last November, when terror attacks in Paris left 130 people dead, and has tightened its border checks accordingly.
The port said it had raised concerns over French staffing levels with the UK government earlier this week, which were then brought up with its French counterparts.
The Conservative MP for Dover and Deal, Charlie Elphicke, has called on the government to apologise to people who have been queuing for hours in the summer heat.
He told the BBC: "This is completely unacceptable. The port days ago warned the Home Office and the Department for Transport that this was a developing situation.
"It seems that very little was done. I think these people are owed an apology because the government should have been prepared, and wasn't."
Dave Hunt, who has lived in Dover for 33 years, said delays happened every time the schools broke up.
He told the BBC: "The Harbour Board are aware of this but seem to do nothing. Residents of Dover are unable to go about their everyday business as the town is gridlocked."
---