The review board of Guantanamo Bay refused to release an Afghan prisoner despite an alleged case of mistaken identity, according to a human rights organization. The inmate will reportedly continue to be held because his post-release plan was "insufficient."
Haroon Gul, 33, has been held at the controversial prison since 2007, despite never being charged or receiving a trial.
In addition, an attorney for the UK human rights organization Reprieve, Shelby Sullivan-Bennis, says there is reason to believe Gul is "one of the many proven cases of mistaken identity."
Read more
Earlier this week, Gul was finally given his first hearing in nine years. However, the outcome was not the one Sullivan-Bennis or Reprieve wanted.
"Guantanamo's Periodic Review Board (PRB) ruled this week that Haroon Gul, 33, must continue to be detained indefinitely without charge or trial because his plan for what he would do post-release was insufficient,"
Reprieve said in a
statement
.
And although Gul was finally granted a hearing, Sullivan-Bennis said he "was given less than three hours out of the last nine years to prepare with an attorney for this hearing...this is status-quo justice in Guantanamo."
Reprieve called the hearing "inadequate and unfair."
"Neither Mr. Gul's attorney nor his military representatives were allowed to discuss the allegations with him under attorney-client privilege, nor was he given the chance to rebut the classified allegations against him before the board," the organization said.
The Afghan national previously had no defense attorney during his nine years at the facility.
Gul, who arrived at the controversial facility after being passed to the US by local Afghan forces, has repeatedly insisted the government's allegations against him are false.
Read more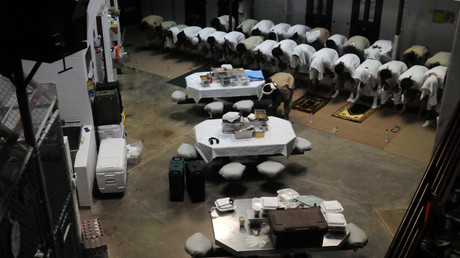 His file will become eligible for review in six months.
Established in 2002 in the wake of the 9/11 terror attacks, Guantanamo Bay has come under constant fire from human rights advocates.
Just days ago, Guantanamo inmate Mohamedou Ould Slahi was
cleared
for release after being held at the prison for 14 years without charge.
Meanwhile, 31 men are still waiting for a hearing or the result of a periodic board review approving their status to be released, and nine other men are considered too dangerous for release – though the US government has not presented any evidence against them, lawyers for the detainees say.
Despite running on a campaign promise to shut down the controversial facility, US President Barack Obama's efforts have been repeatedly blocked by Congress.
In March 2015, Obama expressed
disappointment
that the facility was still running, saying that if he could return to the first days of his presidency, he would close the prison immediately.
"I think I would have closed Guantanamo on the first day," Obama said at the time. "I didn't at that time because we had a bipartisan agreement that it should be closed."