Islamic State (IS, formerly ISIS) fighters disguised as women were reportedly caught by opposition forces while attempting to flee Manbij, Syria. It came after the terrorist group was given 48 hours to leave the strategic city.
The men, dressed in full black veils, attempted to blend in with civilians fleeing the northern city, after coalition forces issued an order to leave Manbij within two days.
Footage of the three men was published online by the US-backed Syrian Democratic Forces (SDF) on Thursday, which consists of predominantly Kurdish fighters.
The video begins with the men sitting in front of the opposition fighters, with their faces still covered. They are then shown walking with their face veils removed, and eventually stripping down to their underwear.
One of the captured fighters said he was a sniper, according to Storyful news verification service, as cited by Middle East Eye.
The attempted escape came after the Manbij Military Council (MMC) – part of the SDF - gave IS fighters 48 hours to leave the strategic town with their "individual weapons" on Thursday, saying that was their last chance to leave alive.
Read more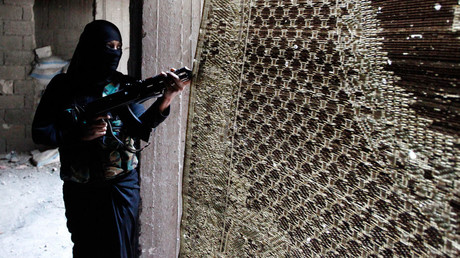 "This initiative is the last remaining chance for besieged members of Daesh [Arabic acronym for IS] to leave the town," the MMC said, as quoted by AFP.
Most IS fighters ignored the warning, remaining in the city and using civilians as human shields.
Ahead of the 48-hour warning, at least 56 civilians were allegedly killed by coalition airstrikes in Manbij, located in the east of Aleppo province. Reports of the civilian casualties prompted the head of the opposition Syrian National Coalition (SNC) to
urge
the US-led coalition to suspend its aerial campaign against IS.
Manbij is situated on a key supply route to the IS stronghold of Raqqa, and is therefore seen as a highly-strategic city in the fight against the terror group.
It's not the first time IS fighters were found attempting to escape an area dressed as women. In February, fighters fleeing Ramadi were captured despite wearing burqas and made-up faces.
At least 250,000 people have been killed and 12 million displaced since the Syrian civil war began in 2011, according to UN figures.