Angela Eagle to announce Labour leadership bid on Monday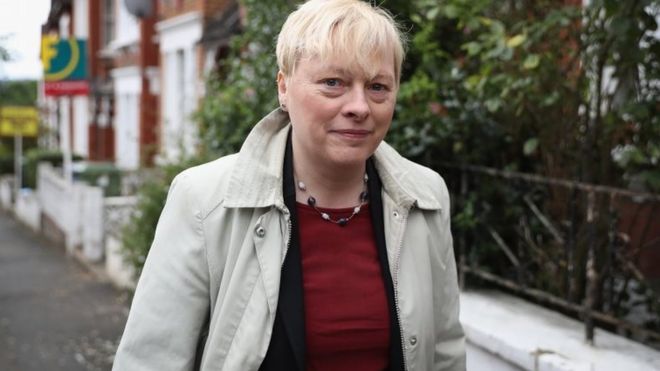 Angela Eagle has said she will announce her bid for the leadership of the Labour Party on Monday.
Ms Eagle, who resigned as shadow business secretary last week, said leader Jeremy Corbyn had failed "to lead an organised and effective" party.
Mr Corbyn's spokesman insisted he would remain as leader of the party and would fight any leadership challenge.
It comes after Tom Watson called off talks with unions aimed at resolving the stand-off at the top of the party.
Mr Corbyn has refused to step down despite a
vote of no confidence
passed by the party's MPs last month - and many resignations from his shadow cabinet - in the wake of the EU referendum.
Confirming her leadership bid, Ms Eagle said she would "explain my vision for the country and the difference a strong Labour Party can make" on Monday.
"I urge all my colleagues to listen very carefully to them [the unions] and indeed come together to oppose what this government is doing to the most vulnerable within our society," he said.
His spokesman said the Labour leader had made it clear he wanted to work with MPs to carry out his role as elected leader of the party.
"[He] is ready to talk with as many people as necessary to assist that process, discussing policy initiatives and listening to ideas," he said.
Earlier, shadow home secretary Andy Burnham said the party's priority now "should not be to descend into civil war".
"It should be to give the country some clarity and stability and get after this government because it's causing chaos," he told BBC Radio 4's Today Programme.
'Profound sadness'
Calling off the union talks, Labour deputy leader Mr Watson said Mr Corbyn's declaration to continue "come what may" meant there was "no realistic prospect of reaching a compromise" over the leadership.
The Unite union had been due to meet representatives of Mr Corbyn and Labour MPs in Brighton on Sunday in a bid to break the deadlock.
Mr Watson said he had made "significant progress" during initial talks with union representatives earlier this week, adding it was his "strong belief" the discussions could have led to a basis for further talks.
But he said: "It is with regret and profound sadness that I have concluded there is little to be achieved by pursuing wider conversations with our union affiliates at this time."
Mr Corbyn's spokesman said it is "disappointing that some have walked away from them [the talks]".
'Can broker peace'
More than 20 members of Mr Corbyn's shadow cabinet and a similar number of junior ministers walked out last month, after questioning his performance during the EU referendum and his ability to lead the party.
Unite's general secretary Len McCluskey had been spearheading efforts to resolve the leadership crisis in the party.
Reports suggest Mr Watson had been due to meet Parliamentary Labour Party chairman John Cryer and chief whip Rosie Winterton on Sunday, ahead of Unite's policy conference on Monday.
Appearing on the BBC's Andrew Marr Show last Sunday, Mr McCluskey said trade unions were "professional negotiators" and could "resolve this issue".
"The trade unions can broker a peace - with Jeremy as our leader and the genuine concerns of the PLP, we can bring people together," he said.