Angela Eagle to launch Labour leadership bid


Ex-shadow cabinet minister Angela Eagle is to formally launch her leadership challenge against Jeremy Corbyn, saying she intends to "save" the Labour Party.
Another potential leadership contender, Owen Smith is to hold crisis talks with Mr Corbyn later, to "avert a damaging contest" and a party split.
Mr Corbyn has refused to step down since losing the support of most of his MPs in a vote of no confidence.
He has also faced numerous frontbench resignations, but has said he would not "betray" the party members who elected him last year by standing down.
Labour's ruling body, the National Executive Committee, is expected to decide this week if he needs backing from 51 MPs and MEPs to stand in a new leadership contest.
BBC political correspondent Eleanor Garnier says Ms Eagle will style herself as a "practical socialist" standing for equality, social justice and social mobility.
Ms Eagle, 55, said: "The Labour Party needs to be saved - I'm stepping up to the plate to say it's about time that we did this so we can make the Labour Party relevant again and so we can contend for government.
"I want to ensure our country can be healed after the terrible shock that Brexit is going to inflict on it.
"I think it's important we all have our principles... but you also have to be in a situation where you can speak to Labour voters and the wider country - and give our party the best chance of being able to make that difference that early Labour governments made.
---
Analysis
By Ross Hawkins, BBC political correspondent
Jeremy Corbyn has suggested he may go to court if he's not automatically on the ballot paper in Labour's leadership election.
His rivals say he needs the support of a fifth of Labour MPs and MEPs to compete; he says he doesn't.
Two different and completely contradictory bits of legal advice have been obtained. Who's right? This is the key passage in the party rule book: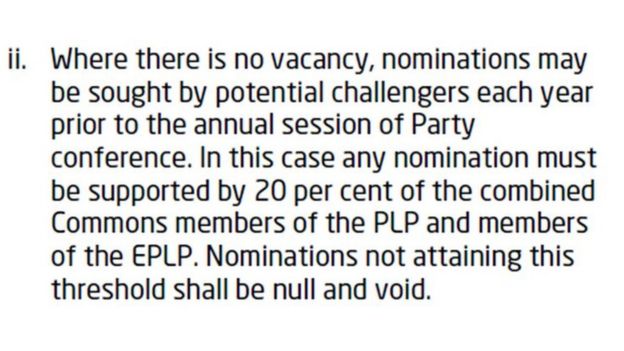 Do the words "in this case any nomination" apply only to challengers, or do they suggest the sitting leader needs the backing of MPs and MEPs too?
Mr Corbyn's opponents say there is a precedent. When Neil Kinnock - then leader - was challenged by Tony Benn in 1988 Lord Kinnock says he sought nominations. One barrister active in Labour politics - and a fierce critic of Mr Corbyn - Jolyon Maugham QC - told the Today programme the rules have changed since then and the words above do not force the current leader to find parliamentary friends.
Don't be fooled into thinking this is just a legal dispute though; the rulebook is another battleground for a bitter political scrap.
Labour's ruling committee, the NEC, will decide and their decision may then be challenged in court.
Whatever the result, the losing side in the dispute won't cheerfully accept it. Those trying to replace Mr Corbyn argue any leader who can't get the support of a 20% - just 51 - of his MPs is a pretty hopeless leader. The other side say the argument shows the Labour leader's challengers are afraid of a fair fight.
---
Ms Eagle also said she did not think the party was "­communicating with our voters".
"We have got to rebuild hope together and I think the Labour Party, when it's working properly, when it's functioning, that's what it does and that's what I want to see it get back to."
During her interview, Ms Eagle described herself as a "good, sensible, down-to-earth woman with Northern roots".
She added: "I have got life experience and values. I'm a woman from the working class North - I understand metropolitan things too.
"I'm a gay woman - I know the difference between hope and fear."
Meanwhile, Owen Smith, the shadow work and pensions secretary, is to meet Mr Corbyn "to put to him fresh ideas about how we might avert a damaging contest and still stop the party from splitting".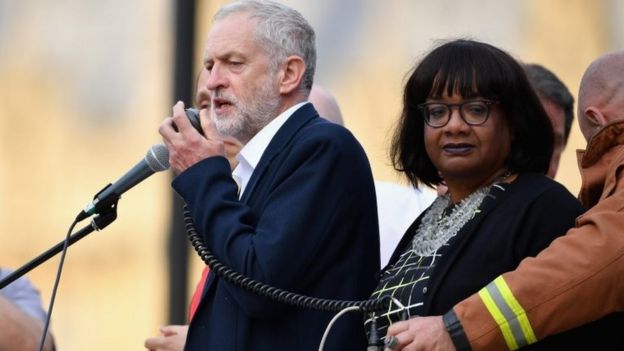 Mr Corbyn and his supporters claim the Labour rulebook means he will automatically be on the leadership ballot and any challenger will have to secure the names of 51 MPs and MEPs - 20% of the party's parliamentarians in Westminster and Brussels - to be nominated.
But his opponents say the document's wording means Mr Corbyn will also require the support of MPs and MEPs to stand - which, given his loss of the no confidence vote last month by Labour MPs by 172 votes to 40, means he is unlikely to be on the ballot.
Mr Corbyn has suggested he would be willing to challenge the executive's decision in court if it went against him.
Long-standing member of Labour's National Executive Committee, Christine Shawcroft, told the BBC Mr Corbyn should get an automatic place on a new ballot, saying the relevant section of the rulebook refers only to "potential challengers" who must seek nominations.
She said most of the NEC were "quite clear" on this interpretation and she had seen barrister advice to that effect.
"There's only one reason to keep him off the ballot paper," she said. "And that's to have contempt for the views of the membership."
'More dysfunction'
Shadow health secretary Diane Abbott, an ally of Mr Corbyn, said it would be "contrary to all the rules of natural justice and fairness" if he was not automatically on the ballot, saying the rules "do not prohibit" it.
Describing Ms Eagle as "The Empire Strikes Back" candidate, because of her support for the 2003 Iraq war, Ms Abbott said there would be a "clear political choice" in any leadership contest.
She also insisted Labour was functioning properly in Parliament - following the mass walkouts in protest at the leadership - and played down divisions among its MPs, saying: "There will be no split."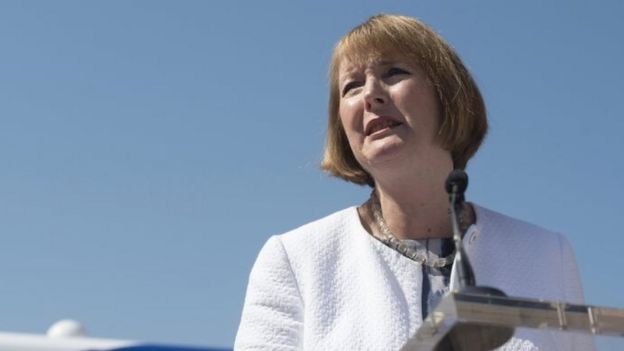 But Harriet Harman, former deputy Labour leader, insisted that Mr Corbyn would have to have the support of 20% of the party's MPs to get on a new ballot "because the leader needs to lead an alternative Labour government".
"The idea that the leader of the party, having lost the confidence of Labour MPs, then takes the national executive to court is more dysfunction upon more dysfunction, and the party is suffering."
She said Mr Corbyn was not a leader, and added: "If you fail, you can't take the party down with you. That's not fair."
She said Labour had "deep problems" that were not caused by Jeremy Corbyn - citing its 2010 and 2015 general election losses - but she said he was not the leader to solve those problems.