Nabeel Rajab posted image on Twitter account showing bruises and gashes on man who died in custody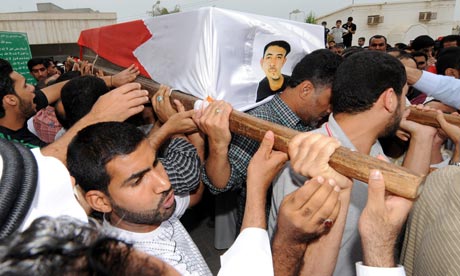 Bahrain
's most prominent
human rights
activist has been summoned for questioning by a military prosecutor, after being accused of tampering with photographs of a man who died in custody last week.
Nabeel Rajab, the head of the Bahrain centre for human rights was accused of posting a "fabricated image" of a detainee on his
Twitter account
, according to the interior ministry.
Rajab claims Ali Isa Saqer was beaten to death in custody. He told the Associated Press that the photo he posted on his Twitter account, showing Saqer's body covered with bruises and gashes, was genuine. Rajab said there is a campaign to prevent him from documenting human rights abuses in Bahrain.
"They want to do their crimes in secret," Rajab said. "I am one of the few human rights activists who has not yet been arrested and the government wants to silence me and prevent me from doing my work."
Bahrain has been cracking down on critics since the imposition of military rule last month after weeks of protests by the Shia majority – who say they are treated as second-class citizens – against the Sunni monarchy.