Al-Shabaab massacre guests and staff at another hotel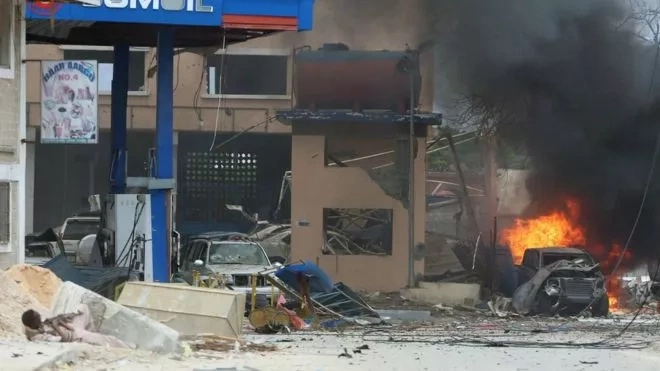 – Al-Shabaab have attacked another hotel in Mogadishu in the same month
– At least seven people have been confirmed dead, with authorities fearing the number could be higher
At least seven people have been confirmed dead after al-Shabaab militants attacked a hotel in Somalia's capital Mogadishu, international media report.
The Islamist terror group is said to have detonated a car bomb at the gates of the Naso-Hablod hotel, before gunmen forced their way in.
A witness told the Associated Press that the gunmen took hostages in the hotel and shot indiscriminately at guests.
"They were shooting at everyone they could see. I escaped through the back door," said the witness, identified as Ali Mohamud.
Health workers reported that at least seven people died, among them possibly three security guards.
Somalia authorities are yet to establish the number of militiamen who attacked the hotel, as well as the number of people who were in the hotel at the time of attack.
According to Reuters, a Shabaab spokesman said the terrorists targeted the hotel in southern Mogadishu as it was "frequented by the apostate government members".
The Naso-Hablod is popular amongst politicians and tourists.
Al-Shabaab militants continue to carry out attacks across Somalia and particularly Mogadishu where they were driven out in 2011, in an attempt to overthrow the current Western-backed government and impose their own strict extremist rule.
The group has previously launched attacks in hotels within the country currently being assisted to stabilise by African Union AMISOM forces.