The conservative People's Party (PP) of acting Prime Minister Mariano Rajoy has won most seats in Spain's parliamentary election but is short of a majority, according to results based on 90% of votes counted.
The Socialist PSOE - the other traditional party - is in second place.
The left-wing Unidos Podemos coalition and centre-right Ciudadanos are in third and fourth.
The vote was held to break the deadlock from December's inconclusive poll.
The PP is predicted to win 136 seats (up 13) and the PSOE 86 (down four) - contradicting an earlier exit poll suggesting the Socialists had slipped into third place.
Unidos Podemos will win 71 (no change) and Ciudadanos 32 (down 8), forecasts suggest.
The Spanish election came days after the UK voted to leave the EU.
Prime Minister Rajoy had sought to portray the election as a choice between economic stability and the uncertainty offered by Unidos Podemos ("Together We Can"), a coalition led by anti-austerity party Podemos that emerged just two years ago in protest against austerity measures demanded by Brussels.
Podemos leader Pablo Iglesias has denied his party is Eurosceptic, telling the BBC he was "sad" at the outcome from Britain's referendum.
"We hope for a different Europe, we will fight for a Europe with social rights as a reality and we are for Europe and the people in Europe."
December's election was a watershed for Spain, because the PP and the PSOE had previously alternated in power since the restoration of democracy in the 1970s.
But after months of talks no party was able to form a coalition or minority government.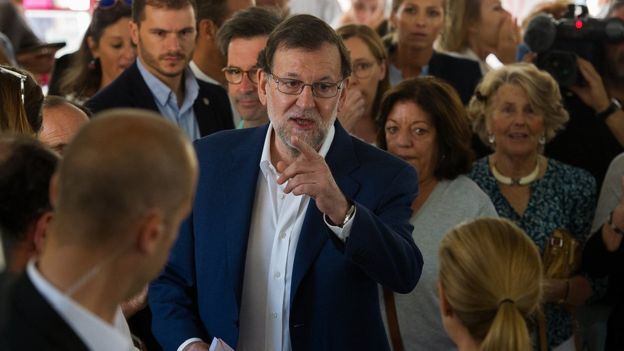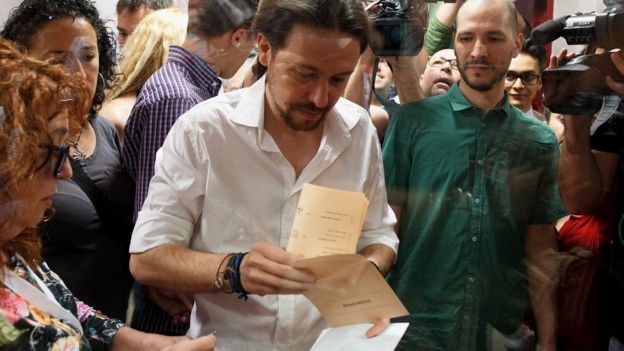 Unidos Podemos and other left-wing groups argued that the PP, under Mr Rajoy, had been discredited because of austerity and the chronic unemployment that has plagued Spain since the 2008 financial crisis.
The PP, however, says Spain's improved economic performance is proof that its policies have worked.
Casting his vote on Sunday, Mr Rajoy urged Spaniards who "love and feel for their country" to make their voices heard.
"Spain will be what the Spanish people want it to be, it will have the government and the members of parliament the people want," he said.