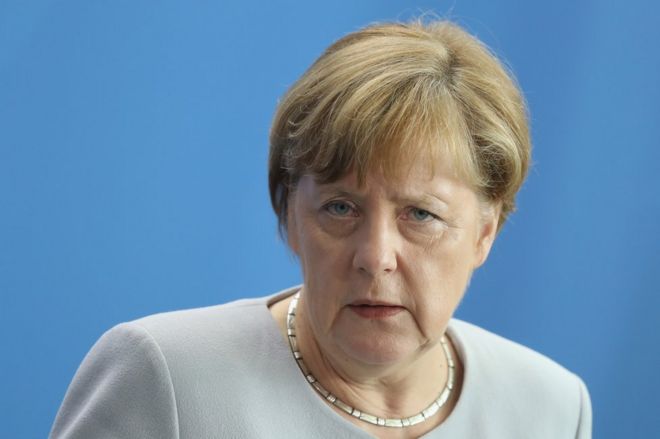 The German Chancellor, Angela Merkel, has said there can be no talks on Brexit before the UK formally begins the process of leaving the EU.
While accepting the UK needed time, she added it should not be a "long time".
Mrs Merkel is due to meet the French president and Italian prime minister later in Berlin, with the speed of negotiations for the UK's exit high on the agenda.
UK shares have remained uneasy
in the wake of the vote, although Chancellor George Osborne's statement appeared to have helped lessen further big falls in shares and the pound.
US Secretary of State John Kerry has said his country's "special relationship" with the UK will be maintained.
"The vote did not come out the way US President [Barack] Obama and I had expected but that's democracy," he told reporters in Brussels.
Last Thursday, the UK voted 52-48 in favour of leaving the EU.
What did Mrs Merkel say?
"The reality is that a majority of British citizens voted to leave... so I await a communication about Article 50 from the UK addressed to the EU," Mrs Merkel said.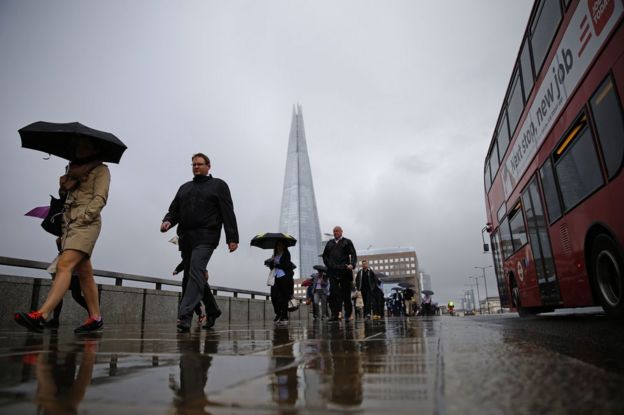 "I have the task to consider that message when it comes. We should not wait a long time. I do understand that the UK will consider things for a while.
"There cannot be any informal negotiations until we get that message [triggering Article 50] from the UK.
She added: "All 27 [remaining EU states] must work together to prevent any centrifugal forces."
"We can't have a permanent impasse," she was quoted as saying by Reuters news agency.
Once the UK invokes it, Article 50 of the Treaty of Lisbon sets out a two-year timetable to reach an exit deal. But UK PM David Cameron, who will step down by October, says he will leave the timing to his successor. He is due to make a special address to parliament later.
The Leave campaign says there is no need to rush the UK's exit.
France and Germany have insisted they are in "full agreement" on Brexit, although French Finance Minister Michel Sapin said on Monday this meant Britain should "go quickly".