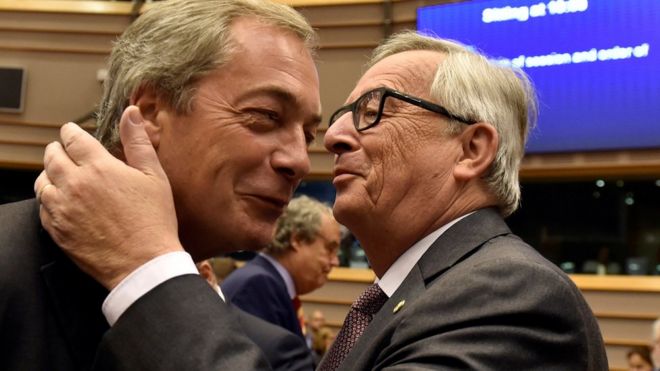 European Commission chief Jean-Claude Juncker has urged UK to "clarify its position" on Brexit as soon as possible.
He told the European parliament that Britain and the UK remained friends but it needed to state its position to avoid uncertainty.
PM David Cameron is to meet European Union leaders for the first time since the UK voted to leave later on Tuesday.
He is stepping down to allow his successor to conduct exit negotiations.
Mr Cameron has said it will be up to the next prime minister when to trigger the formal method by which a country leaves the EU, Article 50 of the Lisbon Treaty.
"We need to clarify the situation as quickly as possible. But I'm still sad because I'm not a robot, a grey bureaucrat or technocrat," Mr Juncker said.
"I'm a European and I have a right to say I regret the result of the British vote."
Mr Juncker also echoed comments from the leaders of France, Germany and Italy that there can be no informal talks until Britain began the exit process.
"We cannot allow a long period of uncertainty. There can be no secret negotiations. No notification, no negotiation," he said.
He also said the will of the British people must be respected, prompting applause from UK Independence Party (Ukip) leader Nigel Farage, a key campaigner behind the leave vote.
"You were fighting for the exit, the British people voted in favour of the exit. Why are you here?" Mr Junker said to him.
Manfred Weber, the chairman of the European People's Party grouping in the European parliament delivered an angry rebuke to Mr Farage.
Mr Weber said the "worst liars can be found amongst Ukip". He said Mr Farage had gone back on a pledge to fund the NHS with money taken back from EU contributions.
"Apologise to the British, shame on you," he told Mr Farage, adding: "Stop this populist Brussels bashing."
Mr Weber also said: "The times of appeasement are over. We have to stand up for our European project."