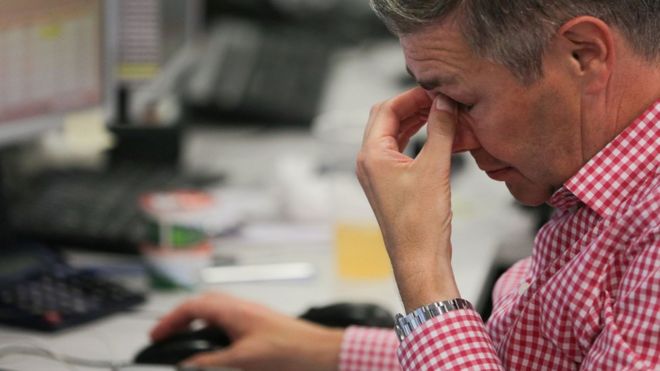 UK financial markets remain volatile in the wake of the Brexit vote, with sterling plunging to a 31-year low against the dollar, and some share trading temporarily halted.
Yields on 10-year government bonds sank below 1% for the first time.
Banks, airlines and banks were hardest hit with sharp falls causing a momentary halt for some shares as automatic circuit breakers kicked in.
In a statement before the markets opened, the chancellor said the UK was ready to face the future "from a position of strength".
He also indicated there would be no immediate emergency Budget.
But the upheaval in markets continued. Property shares were badly hit, prompting a trading halt, on worries that the decision to leave the EU would hit the housing market.
Easyjet's shares fell more than 18% after
the airline
said Brexit would contribute to a fall in revenues.
Taylor Wimpey fell 15% and Barratt Developments fell almost 13%.
The FTSE 100 had plunged more than 8% at one point on Friday before recovering some ground to close 3.2% lower.
The benchmark FTSE 100 index was down 1.3% in late morning trading at 6,059.83.
The FTSE 250 index, which mostly contains companies that are more UK-focused, was down 4.5% on Monday after sliding 7% on Friday.
The pound hit a 31-year low of $1.3209, sinking below the level it had fallen to on Friday, when it recorded its biggest one-day fall against the dollar.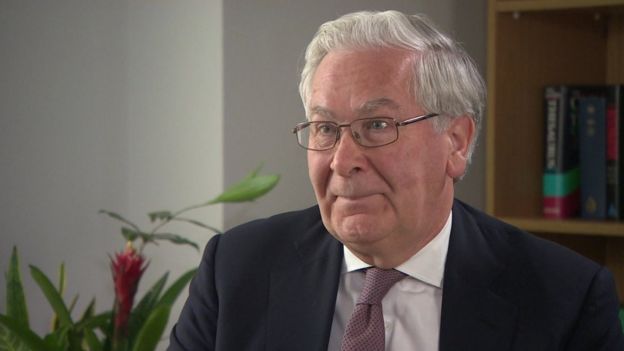 The return on UK government bonds - known as the gilt yield - fell to its lowest level ever on Monday.
Investors are buying more UK government debt in search of safer investments.
The yield from a 10-year gilt dropped below 1% for the first time - hitting 0.993% in morning trading.
'Don't panic'
Former Bank of England governor Mervyn King, who steered the Bank through the 2008 financial crisis, said there was no reason for people to be particularly worried.
"Markets move up, markets move down. We don't yet know where they will find their level and the whole aspect of volatility is that there is a trial and error process going on before markets discover what the right level of stock markets and exchange rates actually are.
"What we need is a bit of calm now, there's no reason for any of us to panic," he told the BBC.
Short term, Lord King said he expected the leave decision to affect investment from foreign firms into the UK, but in the long term he said it was likely that the impact would be much smaller than either side expected.
However, he criticised the campaigning ahead of the referendum.
"I was struck by how many people said to me that they didn't like the scaremongering tactics. They didn't like to be told that if they were to vote to leave they would be idiots.
"If you say to someone 'you're an idiot if you don't agree with me' then you're not likely to bring them in your direction," he said.
In his statement before the markets opened,
Chancellor George Osborne
said there would still need to be an "adjustment" in the UK economy, but added it was "perfectly sensible to wait for a new prime minister" before taking any such action.
"Markets seem a little calmer this morning, which we can at least partially attribute to George Osborne's statement," said Joe Rundle, head of trading at ETX Capital.
"After going to ground since the vote, the chancellor's appearance indicates some much-needed continuity at the heart of government.
"Despite the prime minister's resignation and a swathe of Labour shadow cabinet departures, [Mr] Osborne doesn't appear to be going anywhere."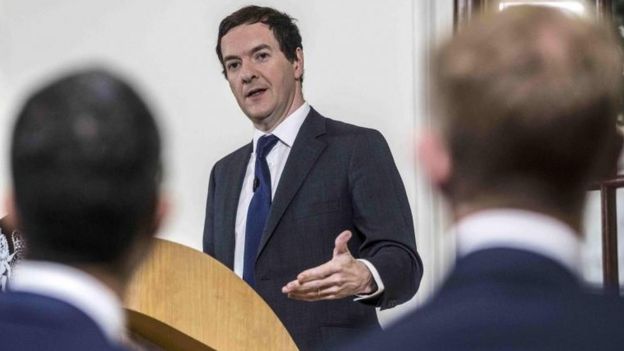 Laith Khalaf, senior analyst at Hargreaves Lansdown, said: "The Brexit vote has substantially moved the dial on interest rate expectations, with markets now pricing in a significant chance of rates going negative in the UK.
"This is good news for borrowers, who can now expect lower mortgage rates for even longer, but cash savers will be wondering just how many years they have to wait to get a decent return on their deposits."
The Council of Mortgage Lenders, which represents lenders in the UK, said it expected a "wait and see" approach from potential buyers and sellers of property following the referendum vote - but no house price falls.
"There is likely to be considerable uncertainty as a result of the EU referendum decision," the CML said.
"We expect this to affect sentiment and reduce activity below levels that would otherwise be expected in the near term, as both buyers and sellers adopt a wait-and-see attitude until the dust begins to settle.
"Market fundamentals underpinning house prices still look sound, and we do not expect significant house price falls, especially given the current supply-demand imbalance."
Haven asset
The price of gold rose on Monday, up 1.5% to $1,335.30, although it was below the two-year peak of $1,358.20 reached on Friday.
The gold price often rises in times of uncertainty as it is viewed as a haven asset.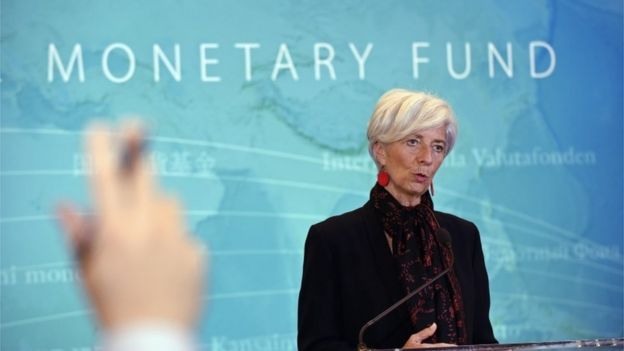 On Sunday night Christine Lagarde, head of the International Monetary Fund, said that the UK's vote to leave the European Union had caught the financial markets by surprise.
But despite that, there had been "no panic" and the markets were "under control".
Tohru Sasaki, head of Japan market research at JPMorgan Chase in Tokyo, said falls in European markets would "not cause a financial crisis with the magnitude of the Lehman shock in 2008".
Stock markets plunged on Friday, with more than $2tn (£1.5tn) wiped off the value of global stock markets, according to Standard and Poor's Dow Jones Indices.
That was the biggest one-day loss in market value - even greater than the value wiped out following the collapse of Lehman Brothers during the 2008 financial crisis, Standard and Poor's calculated.
Next pressures
Traders will be watching the UK's financial position closely over the coming months.
Jeremy Cook, chief economist at World First, said: "We are still looking for another 10% fall for the pound against the dollar in the coming months as data confirms the economic slowdown and monetary policy expectations increase.
"The funding position of the UK, with its twin current account and fiscal deficits, are the next pressures to weigh."
The UK's current account deficit measures the balance of trade, investment income and money transfers.
That deficit means that the UK must borrow to pay its way in the world.
The fiscal deficit refers to the gap between government expenditure and income that has to be financed by borrowing.