Meru: Prayer rally held to protect alcohol den from police raid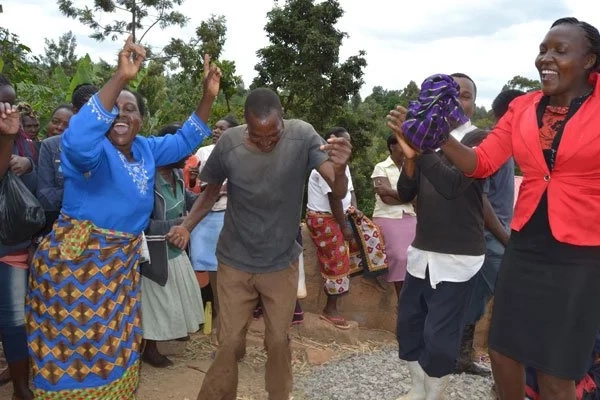 – A large crowd of residents in a Meru village held an unusual prayer rally, calling on God to protect a beer brewer from a police raid
– Some beseeched God to strike the officers blind or cover the den in a dark cloud to make it invisible
– They said the brewer, accused of operating illegally, was a source of livelihood for many in the area
Hundreds of residents of Ndiruni village in Tharaka-Nithi County held an unusual prayer meeting at an alcohol-brewing company on Friday June 10, 2016, calling on God to protect the den from an imminent police raid.
The crowd, comprising of the young and old of the community, prayed and worshipped loudly as police pushed to enter the brewer's gates.
Some could be heard praying that the officers be struck blind so that they could not make it to the firm, while others called on God to cover the den with a black cloud to prevent it from being seen by the officers, according to Daily Nation.
Their prayers seemed to have either landed on deaf ears or delayed to arrive, as shortly after, police made their way in and began the swoop.
The officers, led by Tharaka-Nithi County Commissioner Florence Amoit, destroyed 18,000 litres of alcohol and impounded brewing materials including 36 tanks, each of 500 litres.
The villagers say that the brewer, accused of operating illegally, is a source of income for more than 300 residents employed there.
More others benefit directly as the firm buys sugarcane and honey from them.
Commenting after being overpowered by police, a resident identified as Mary Muthoni in the report said it was unfortunate that police frequently raided the den's owner Albert Gitari, commonly known as "Father", as he had contributed greatly to the economy of the area.
"The police usually dishonour court orders stopping them from interfering with this business. Father has transformed the community by employing the young and old. As from today, we will fast and pray to God for seven days until police keep off this facility," she complained.
James Mutegi, another resident, said police were interfering with their culture, as during many ceremonies such as weddings and circumcision, they consume the traditional beer from the firm, branded 'Utamaduni'.
"If the police do not stop interfering with our traditions, elders will visit State House to petition President Uhuru Kenyatta to allow us exercise our traditions,"said Mutegi.
Image: Daily Nation