Home secretary agrees to police request for ban of march planned through one of UK's biggest Muslim communities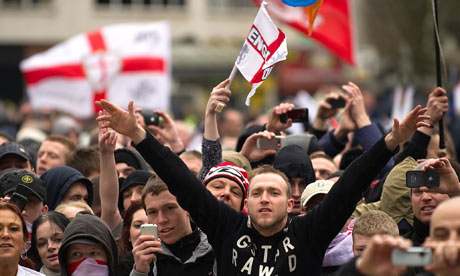 Police sought the ban after the EDL – which has seen widespread public disorder at earlier rallies – planned to march on 3 September through Tower Hamlets, which has a significant Muslim community, many of Bangladeshi origin.


The veteran campaigner Peter Tatchell said that while he abhorred the EDL, he believed the ban was a "complete overreaction" and would prove counter-productive. He said: "I'm not sure we can defeat anti-democratic groups like the EDL using anti-democratic methods like banning marches. A far better tactic would be peaceful counter-marches and exposing the views of the EDL to public scrutiny."

The EDL insisted any admiration was one way and it did not condone his views.
The group has struggled for legitimacy, even amid evidence it has picked up supporters as the better established far-right British National Party has been beset by internal divisions. According to Searchlight, the EDL has active support from people involved in earlier far-right groups, including the even more extreme Combat 18 and National Front.